Block 2 - Animationsfilm / Kurzspielfilm/ Kurzdokumentarfilm
Saturday, 6. October, 22pm
Zirdzin, Hallo! / Hello Horse! / Hallo Pferd!
Latvia / 2017 / Documentary / 24 min
OT ohne Di / UT -
"A film about permanent change, though everything remains the same – or – everything remains the same within permanent change", director Laila Pakalnina writes about her film. She shows us Pleiki, a place in Latvia near the border to Belarus, with an almost ecstatic montage of images. In this mode, the change of seasons creates surprising moments that are contrasted with moments of exact observation. This clever approach constantly gives us a new discovery of space, even though everything remains the same.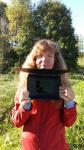 Director: Laila Pakalnina, Producer: Laila Pakalnina,
Script: Laila Pakalnina, DoP: Ivars Burtnieks,
Editor: Ivars Burtnieks, Sound: Anrijs Krenbergs, Music: None
Laila Pakalnina graduated from the Moscow Film Institute (VGIK), Department of Film Direction, in 1991. A director and scriptwriter of 28 documentaries, 5 shorts, and 5 fiction features, altogether she has 38 films, 2 children, 1 husband, 2 dogs and 2 bicycles. And many ideas for new films. Her film "The Chimney (Skurstenis)" was screened at the Provinziale in 2014.
Block 3 - Kurzspielfilm / Kurzdokumentarfilm
Sunday, 7. October, 16pm
Gesteinsgeschichten / Slate Stories /
Germany / 2018 / Documentary / 41 min
OT English / UT German
"Aberllefenni Slate Quarry" was the name of the place where slate was quarried in North Wales. Once the area flourished on the basis of slate, now it depends on tourism. Slate miner Ant describes the labyrinth of the hollowed-out mountain and its ties to world history and explains the conditions that caused the decline of mining. Darren describes scary work paths, Drew has to do the hard job, and old Glyn Roberts sings ballads in the tradition of Welsh male choirs. Their stories are immersed in a sequence of VHS material of very low light intensity that was recorded underground by miner Glyn Davies during the last few months before the end of mining.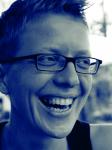 Director: Justin Time, Producer: Justin Time,
Script: Justin Time, DoP: Justin Time, Glyn Davies (VHS-Material),
Editor: Justin Time, Sound: Brooke Trezise, Music: Glyn Roberts (Interpret)
Justin Time is a stone mason, artist and filmmaker. His work investigates real and abstract spaces and social dynamics. He is more interested in the questions than in the answers. His way to filming was opened by a surburbian western. He developed his readiness to move on and keep learning during the traditional journey as a stone mason, when he worked and moved across Europe for three years. Later he studied masonry at the College of Arts in Berlin Weißensee, Urban Studies at the San Francisco Art Institute and at the self-organized film school FilmArche in Berlin. In 2017 he was represented at the Provinziale with his documentary "Chasing Houses".
Block 5 - Kurzspielfilm / Kurzdokumentarfilm
Sunday, 7. October, 20pm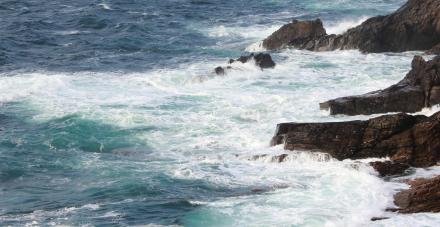 Das Meer und das Land / The Sea and the Land /
Germany / 2018 / Documentary / 14 min
OT English / UT German
Malin Head lies in the extreme northwest of the Irish island. Three residents of this coastal region tell in a short and vivid way of their observations as a farmer, a fisherman and a meteorologist. Through their jobs, they are very closely related to the weather conditions. They are the first to feel the changing climatic conditions at the sea and on land. Their unexcited narration makes clear how urgent it is to listen to them very carefully.
Director: Ines Reinisch, Producer: Ines Reinisch,
Script: Ines Reinisch, DoP: Ines Reinisch,
Editor: Ines Reinisch, Sound: Mathias Bonk, Music: Thomas Hoehl
Ines Reinisch was born in Hamburg in 1978. With a Diploma in Communication Design and her studies of ecological agriculture, she gained filming experience in film and TV productions, among others for ARD and ZDF. She made her own films realising production, direction, camera work, cutting and script. With her documentary "When a garden grows" she went on a cinema tour through the Federal Republic.
Block 5 - Kurzspielfilm / Kurzdokumentarfilm
Sunday, 7. October, 20pm
Those who stay / / Diejenigen, die bleiben
Italy, United Kingdom / 2017 / Documentary / 20 min
OT Italian / UT English
In August 2016, central Italy was hit by an earthquake registering 6.0 on the Richter scale. In the areas of Amatrice and Accumoli 399 people died and almost 10 000 became homeless. The film shows images of an unimaginable catastrophe and focuses on stories, hopes and the everyday life of people who decided to remain in their village.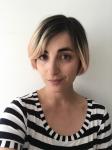 Director: Arianna Nacci, Producer: Arianna Nacci,
Script: Arianna Nacci, DoP: Arianna Nacci,
Editor: Arianna Nacci, Sound: Arianna Nacci, Music: Arianna Nacci
Arianna holds a BA in Theatre and Performing arts, a MA in Journalism and a MA in Visual Anthropology. Her interest focuses on displacement and memory. She is co-director of the Centre of Experimental Storytelling, a project that aims to give new tools to young people living in the areas of central Italy affected by the 2016 earthquake to investigate their trauma through visual storytelling. She is currently living in London, where she works as freelance videographer, photojournalist and ethnographer.
Block 6 - Kurzspielfilm / Animationsfilm / Kurzdokumentarfilm
Monday, 8. October, 18pm
Riski / Risk / Risiko
Germany, Italy / 2017 / Documentary / 11 min
OT Arabic / UT English
Mohammed lives with other boys at the coast of the Mediterranian Sea in the port Melilla, a Spanish enclave on Maroccan ground. He has the hope of getting to Europe one day as a stowaway on a freighter.
Director: Otto Reuschel, Producer: Lea Lazic - Mattia Carraro,
Script: Otto Reuschel, DoP: Otto Reuschel,
Editor: Otto Reuschel, Sound: Otto Reuschel, Music: /
Otto Reuschel was born 1991 in Triest. His first contacts to the world of film result from his cooperation at the festival Mille Occhi (Thousand Eyes). In 2011 he makes his first documentary 'Que pasa', which focusses on the life in the community of indigenous groups in Chiapas, Mexico. After his move to Berlin in 2012 he visits the film school FilmArche. He is a participant in the intercultural project 'Balkan Onions', where the documentary 'In between' was made. Since early 2017 he has been working as an assistant director und sound engineer on the film 'Gli Indocili'.
Block 6 - Kurzspielfilm / Animationsfilm / Kurzdokumentarfilm
Monday, 8. October, 18pm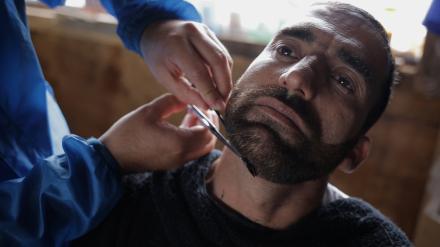 The Barber Shop / / Beim Friseur
France / 2017 / Documentary / 16 min
OT Arabic / UT English
Emran, Gadisa and Maher are having their hair and their beards cut in a refugee camp in Calais. They are letting their thoughts roam and talk about their home, why they left it and how they got to Calais. They reflect what they gave up and what their future may be like.
Director: Emilien Cancet, Gustavo Almenara, Producer: Luc Camilli,
Script: Emilien Cancet, Gustavo Almenara, DoP: Emilien Cancet,
Editor: Emilien Cancet, Gustavo Almenara, Sound: Gustavo Almenara, Music: Jérôme Cancet
Following a Masters degree in Applied Foreign Languages, Emilien Cancet started working as a photographer with a report on the excesses of greenhouse farming in Andalusia. He then studied documentary film and worked as a cameraman and editor for Libération and as a photographer for AFP in Paris. His work is mainly focussed on human beings and perceptions of the contemporary world. Graduating from Arts Décoratifs in Paris in film animation in 2006, Gustavo Almenara has since worked as a creative person, animator, graphic designer and editor in areas such as music video, advertising, animation series, short films and broadcast design. He works in both animation and live action shots, particularly on projects combining video and graphic design. Since 2009, he has co-produced documentary films focusing on the "value of words". He lives and works in Paris and St Denis.
Block 11 - Kurzspielfilm / Animationsfilm/ Kurzdokumentarfilm
Wednesday, 10. October, 20pm
La saison du silence / The Season of Silence / Die Jahreszeit der Stille
Belgium, Switzerland / 2016 / Documentary / 27 min
OT French / UT German
Max is a farmer in a remote place of the Swiss Jura Mountains. It is the winter season, time seems to be creeping. The days are filled with work on the farm, work at the ski lift and visits to the bistro. It is only the choral music that overcomes the quietness and unites the community. With imaginative pictures, the film captures the present life of a farmer.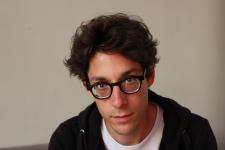 Director: Tizian Büchi, Producer: Véronique Duys,
Script: Tizian Büchi, DoP: Camille Sultan (and Samuel Esselinckx),
Editor: Baptiste Guiard, Sound: Lise Bouchez, Music: Club Edelweiss
Tizian Büchi was born in 1981 in Neuchâtel, Switzerland. He studied arts and cinema at the University of Lausanne and worked in film distribution and as programmer for various Swiss festivals. Among them is the Neuchâtel International Fantastic Film Festival. In 2017 he finished his MA degree in film directing at IAD (Institut des Arts de Diffusion) in Belgium. Currently he works at the Cinema Department HEAD-Geneva as a pedagogical assistant while developing his film projects.
Block 13 - Kurzspielfilm / Animationsfilm/ Kurzdokumentarfilm
Thursday, 11. October, 20pm
除夕 / The Day Before Chinese New Year / Der Tag vor dem chinesischen Neujahrsfest
China / 2016 / Documentary / 22 min
OT Chinese / UT English
A man gets up in the morning, gathers some firewood, prepares a meal, and watches something on TV in the evening. It is a normal day. And yet it raises questions: who is this man? Why does he live at this place? Sometimes his life appears to be from some time in the past, sometimes it could also be in the future, but it is a day like many others, shortly before the Chinese New Year in our present.
Director: Lam Can-zhao, Producer: Lam Can-zhao,
Script: Lam Can-zhao, DoP: Lam Can-zhao,
Editor: Lam Can-zhao, Sound: LAI WENHUA, Music: N/A
Lam Can-zhao, born in the south of China in 1994, is a film author, producer, director, screenwriter, cinematographer and editor. His cinemantic debut was at the age of 20 with THE DOG, an experimental feature which was screened at international film festivals.