HEIMATFENSTER 2019


SAT 12. OCT - SAT 19. OCT / FOYER

The Provinziale is an international festival that takes a look at various countries and places all around the world. But what about the province next door?
This programme is dedicated to films which focus on our own region. Heimatfenster means 'window to our homeland' and is a specially designed screening booth where films can be watched all around the clock during the festival.


Junge Landwirtschaft gewinnt Neuland / Young agriculture wins unknown territory /
Germany / 2019 / undefined / 26 min
OT German / UT -
Is there an approach to farming that takes biodiversity into account, keeps animals appropriately and uses nature's resources in a sustainable way? Désirée Pfenninger and Jan Beckmann's documentary Young Agriculture Wins Unknown Territory pursues this question and shows how young farmers from Brandenburg try to bring their alternatives to conventional agriculture to life.
Director: Jan Beckmann, Désireé Pfenninger, Producer: Jan Beckmann, unkult produktion,
Script: Desiree Pfenninger, Jan Beckmann, DoP: Jan Beckmann, Desiree Pfenninger,
Editor: Desiree Pfenninger, Sound: Jan Beckmann, Désirée Pfenninger, Music: -
- Jan Beckmann gathered cinematic experience in Berlin, Munich and Austria, including first projects of his own, but then proceeded doing an apprenticeship as a cook and working in the profession in Austria, France and Germany. He eventually came to Eberswalde to study organic farming and there rediscovered his old passion for film. - Désirée Pfenninger was born in a small village in South Germany in 1985. After completing a farming apprenticeship, she moved to Berlin in 2003 to work for various film and art projects. In pursuit of her interest in pictures, she took up studies in photography and and photographic engineering in Cologne and, from 2011, film direction at Filmuniversität Potsdam, where she graduated with honours in 2016. Since then, she has been living and working as a freelancer in Berlin.
Finow /
Germany / 2019 / undefined / 7 min
OT German / UT -
Finow is an independent forest state whose inhabitants mainly feed on bananas. In order to earn foreign currency to buy them bananas, the Finowians build scaffolding from dawn till dusk. At least, that's what the script says. The film was shot as a documentary in a forest kindergarten.
Director: Susanne Quester, Producer: HFF München,
Script: Susanne Quester, DoP: Jens Grünhagen,
Editor: Susanne Quester, Sound: Mieko Azuma, Music: Richard Strauss, Edward Grieg
Susanne Mi-Son Quester was born in Starnberg in 1979. After a professional training as a cellist, she studied documentary film at HFF Munich and the Korean National University of Arts. Since 2006, Susanne has been a freelance writer and a producer of documentary films and radio features.
STILBRUCH Reportage - Die Provinziale Das Filmfest Eberswalde / STILBRUCH Reportage: Provinziale – the Eberswalde Film Festival /
Germany / 2017 / undefined / 28 min
OT German / UT -
In 2015, the Eberswalde Filmfest is taking place for the 15th time. The organisers have succeeded in making the so-called Provinziale an important festival. Filmmakers are arriving from countries like Australia, the US and Kyrgyzstan. The thematic focus is on provinces: What is the daily life of a fisherman on Lampedusa like? How does life go on in Iraq's Shingal mountains after the cruel ISIS terrorist attack? And why is cowboy-inspired line dancing so popular in Brandenburg, of all places? Knut Elstermann meets the organisers, filmmakers and residents of Eberswalde, without whom the festival wouldn't be possible. The Provinziale depends on and is dedicated to its audience and gets support from local craft enterprises as well as lots of volunteer helpers. This reportage follows Eberswalde turning into a cinematic town for ten days.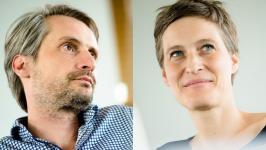 Director: Steffen Prell, Vanessa Loewel, Producer: rbb-Fernsehen,
Script: Steffen Prell, Vanessa Loewl, DoP: Friedhelm Grothe, Eliane Rehor, Robert Schneider,
Editor: Cornelia Zaluskowski, Sound: Olaf Bublitz, Jens Kuhl, Anne Gebhardt, Pierre Gaulke, Udo Schünemann, Music: -
Vanessa Loewel studied France in Berlin, with a great deal of literature and art history. She has been volunteering at the Electronic Media School in Babelsberg and has been working since 2008 as a freelance author for the culture department of rbb Fernsehen and for the radio. Steffen Prell studied politics and media sciences in Leipzig and Strasbourg, followed by a traineeship at the SFB and rbb. Since 2004 he is a freelance author and editor in the culture department of rbb Fernsehen, where he focuses on film and classical music.