ERÖFFNUNGSABEND / BLOCK 1
Saturday, 12. October, 18pm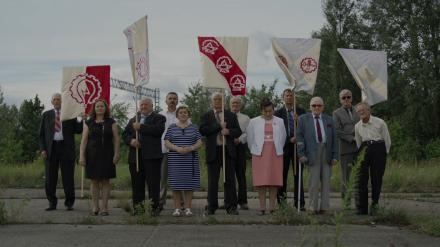 Symfonia Fabryki Ursus / Symphony of the Ursus Factory / Symphonie der Ursus Fabrik
Poland / 2019 / Documentary / 61 min
OT Polish / UT English
Ursus tractors from Poland once were shining stars of the industry. Their gleam faded away when the socialist economy came to an end. People, machines and buildings, once connected by the same pulse, were set free and fell into oblivion. The film tries to reunite those three elements. Using sound and memories of bodily movement, former employees of the Ursus factory re-enact a working day amidst nonexistent machinery on the original site, re-staging the ties they once had in the production process. The result is a new structure of music, choreography and cinematography which does justice to the time gone by and the workers' collective experience – a proud artistic contribution to the ongoing debate on industrial restructuring in Poland, East Germany, the US and other parts of the world.
Director: Jaśmina Wójcik, Producer: Zuzanna Król,
Script: Jaśmina Wójcik, Igor Stokfiszewski, DoP: Kacper Czubak, Jakub Wróblewski,
Editor: Aleksandra Gowin, Sound: Dominik Strycharski, Music: Dominik Strycharski
Visual artist and social activist who creates videos, paintings, projects in public spaces, and interactive installations. Graduate of Faculty of Graphic Arts at the Academy of Fine Arts in Warsaw (Multimedia Lab). In 2011 she defended a PhD at her alma mater. She has won many awards and merits for her artistic activity. In 2015 she was a laureate of Warsaw Cultural Educational Grand Prix Award for a project at the site of the former Ursus Agro-Mechanical Industry and a laureate of the 5th Film Award (from the Polish Film Institute, Museum of Modern Art in Warsaw, and Wajda School) for Symphony of the Ursus Factory.
BLOCK 4
Sunday, 13. October, 18pm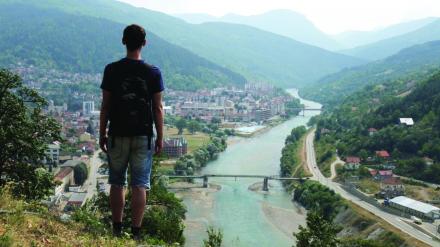 Nostalgia / Heimweh
Austria / 2017 / Documentary / 79 min
OT German / UT English
21 years after his flight from Bosnia, film director Ervin Tahirovic returns to his former homeland. He left his birthplace, Foca, with his family in 1992, crossing mountains, villages and towns, haunted persistently by a murderous war. Having grown up in Vienna and gone through a difficult adolescence, he now searches for traces of his former, suddenly and painfully disrupted life. He walks through the old villages and towns, visits relatives, talks to the neighbours and even dares to contact the new inhabitants of his former family home. He sees that society, however renewed, hasn't come to rest and the conflicts from his childhood days haven't really been resolved. But amidst these complications, his trip becomes a mission of peace. Started as a personal quest and effort to cope with his past, it begins to nourish hope for a dialogue that might help come to terms with the things that happened. Like its protagonist, the film becomes clearer and more self-assured with every new step.
Director: Ervin Tahirovic, Producer: Florian Brüning & Thomas Herberth,
Script: Ervin Tahirovic, DoP: David Lindinger,
Editor: Roland Stöttinger, Sound: Maximilian Liebich, Music: Ljubinka Jokic
Ervin Tahirovic was born in Foca, Bosnia and Herzegovina, in 1982. From 2009 to 2011 he completed a bachelor's degree at the Academy of Visual Arts, followed (2011-2015) by studies in film direction and scriptwriting with Michael Haneke at Filmakademie Wien.
BLOCK 7
Monday, 14. October, 20pm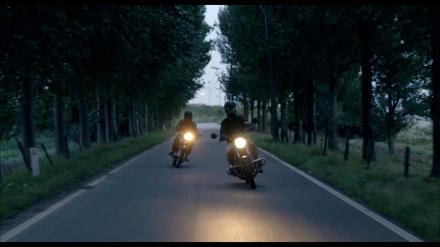 Doel / Purpose / Zweck
Denmark, Belgium / 2018 / Documentary / 67 min
OT Dutch / UT English
Doel is a small ghost town, wedged in between Antwerp's huge industrial port and a nuclear power station. Its scenery is shaped by decline, inertia, various attempts at reappropriation and even the thrill of tourism to an exotic place. There are interests to exploit this bizarre region, but getting rid of its inhabitants and users doesn't seem to be that easy. The film starts by applying a stance of solidarity to this conflict, with an intelligent depiction in the sense of a study in urban sociology, interspersed with shots of humour, dystopia and romance every now and then. Using catchy sound effects and a purposeful camerawork, Frederik Sølberg works his way into the depths of space, through windows and vehicles into the rows of houses of an unconventional neighbourhood where 26 people are clinging to what is a real town and a true home to them.
Director: Frederik Sølberg, Producer: Mathilde Lippmann,
Script: Frederik Sølberg, DoP: Jonathan Wannyn,
Editor: Mads Hedegaard, Sound: Andreas Sandborg, Neal Willaert, Søren Bendz, Music: Anders Rhedin, Anders B. Mannow, Lavvi Ebel
Frederik Sølberg is an award-winning Danish filmmaker and musician based in Copenhagen and Berlin. He has made documentaries, music videos and commercials for radio stations, labels, production companies and artists such as CZAR Brussels, DR, TV2, Canvas, CPH: DOX, Henrik Vibskov and Choir of Young Believers. DOEL is his first documentary film.
BLOCK 9
Tuesday, 15. October, 20pm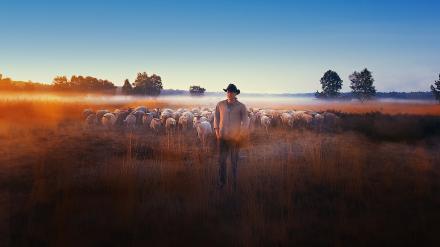 Schapenheld / Sheep Hero / Schafheld
Netherlands / 2019 / Documentary / 81 min
OT Dutch / UT English
The sheep has always been one of the most important domestic animals to humankind. Across nearly all ages and regions, it secured a living for people through its meat, wool, milk and body warmth. But in our society, the squeeze for sheep and their breeders is getting tighter. Whoever wants to survive as a shepherd today, in the sterile and meticulously segregated world of suburban landscapes, between nature reserves and shopping malls, must be something of a hero himself. That, at least, is what director Ton van Zantvoort thinks, having followed his protagonist for eight years. What starts as a romantic enactment, offering numerous drone-.shot views on the beauty of a diversified pasture landscape, grows into a dramatic struggle for survival over the years, pushing the sheepkeeper and his young family to the verge of despair. Is there a place to live between markets, media, societal ignorance and the health and safety department? A film full of tension that exemplifies the growing alienation between farmers and urban society.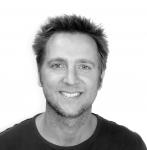 Director: Ton van Zantvoort, Producer: Ton van Zantvoort,
Script: Ton van Zantvoort, DoP: Ton van Zantvoort,
Editor: Ton van Zantvoort, Sound: Jeroen Goeijers, Music: Roy Bemelmans
Ton van Zantvoort (Heesch, 1979) is a renowned director, cinematographer and publisher whose films have been shown at numerous amateur film festivals and on TV stations all over the world (VPRO, ARTE / ZDF, Al Jazeera). He has won a dozen prizes for best director, best cinematographer and best copy-editor.
BLOCK 10
Wednesday, 16. October, 18pm
Pet' / Sing
Russian Federation, Poland / 2018 / Documentary / 52 min
OT Russian / UT English
Khoomei is a form of throat singing practised by indigenous people in the Russian republic of Tuva but, under patriarchic tradition, confined to men. Czodura Tumat is the only woman in this Siberian community who teaches Khoomei and is recognised as a master singer herself. For the young women she teaches her art, studying Khoomei raises serious problems. Their families are likely to disapprove and in many cases, they will face penalties or open hostility. Nevertheless, the film refrains from any stance of accusation. It accompanies its female protagonists making music and struggling with the blindness of their own tradition and shows the men's incapability to deal with Czodura Tumat's tenacity. Russian filmmaker Olga Rodionova not only gives us access to a conflict of emancipation but also opens our eyes and ears for the beauty of the music and the people who practise it. Not least, her film raises hope for the women with their love and commitment to win through.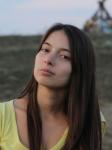 Director: Olga Korotkaya, Producer: Dorota Rozhkowska,
Script: Olga Korotkaya, DoP: Marta Stysiak,
Editor: -, Sound: -, Music: -
Olga Korotkaya graduated as a film director from Russian State University of Cinematography (VGIK) in 2011 and completed the Dox Pro course at Wajda Film School in Warsaw, Poland, in 2012. From 2008 to 2009 she took part in a young filmmakers' exchange programme between VGIK and NFTS (National Film and Television School, London).
BLOCK 13
Thursday, 17. October, 20pm
When Tomatoes Met Wagner / Wenn Tomaten Wagner treffen
Greece / 2019 / Documentary / 72 min
OT Greek / UT English
Does it improve the taste of tomatoes to play classical music to them on the field? Elias, a small greek village, is threatened by depopulation, but two cousins, together with the old ladies of the village, attempt a fresh start and a daring experiment. Balancing their project over the abysses of market economy, between the unlikeliness of success and trust in their own strength, they grow, harvest, bottle and market products to the whole world. But they're not just in it for the business. Their community is meant to reorganise life itself, to find a new balance between responsibility, solidarity, humour and creativity. Whether working on the field or sticking labels onto tins of tomatoes: cost and benefit are weighed the terpsichorean way, merrily or melancholically, in this film about human measures and the possibility of reinventing oneself in a crisis.
Director: Marianna Economou, Producer: Rea Apostolides,
Script: Marianna Economou, DoP: Marianna Economou, Argyris Tsepelikas, Dimitris Kordelas,
Editor: Evgenia Papageorgiou, Niels Pagh Andersen, Sound: Aris Kafentzis, Yiannis Antipas, Pavlos Christoforakos, Kostas Bokos, Music: Richard Wagner
Marianna Economou studied anthropology, photo journalism and film production in London. Since 2000 she has been a film director. She has produced documentary serials and independent films in Greece and in coproduction with European broadcasting companies such as BBC, ARTE and YLE.
BLOCK 14
Friday, 18. October, 18pm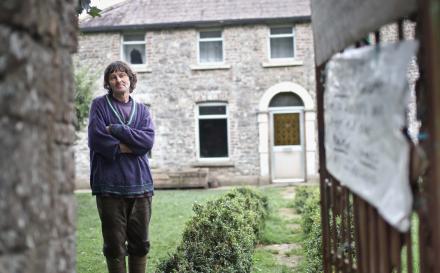 the lonely Battle of Thomas Reid / The Lonely Battle of Thomas Reid / Der einsame Kampf von Thomas Reid
Ireland / 2017 / Documentary / 79 min
OT English / UT English
Thomas lives and works on his own on the Irish farm his family has been managing for centuries – not a place of pastoral romance but a chaotic mixture of human relics, livestock and old buildings. Its ancient stone walls mark an intransigent border between obstinacy and global exploitation rights. The fabric of this farm life seems way too worn out to resist the government's land acqusition campaign organised for the benefit of Ireland's industrial upturn. The film pictures two unequal opponents who barely speak the same language and reconstructs the farmer's lonesome battle against his government's land acqusition plans using a variety of cleverly composed devices: film and rock music, staged court hearings, documentary sequences, casual interview statements and surrealistic effects, all engaging the viewer in an emotionally overwhelming story with an unexpected ending.
Director: Feargal ward, Producer: luke mcmanus,
Script: Feargal Ward & Tadhg O'Sullivan, DoP: feargal ward,
Editor: Tadhg O'Sullivan, Sound: Feargal Ward, Music: //
Feargal Ward's latest long film, The Lonely Battle of Thomas Reid, premiered in the main competition of IDFA Amsterdam in 2017 and has travelled to festivals around the world ever since, including HotDocs, Sheffield Dokfest and Moscow IFF. His previous feature film, Yximalloo (made in collaboration with Tadhg O'Sullivan) premiered at FID Marseille and won the Prix Premier there in 2014.
BLOCK 15
Friday, 18. October, 20pm
Le ciel, la terre et l'homme / Sky, Earth and Human / Himmel, Erde und Mensch
Germany / 2018 / Documentary / 70 min
OT Arabic / UT German
The wind is everywhere in this portrait of the Moroccan desert and its inhabitants, Ahmed, Yussef, Lahcen and Idir. We follow them into their realm, the towns embraced by desert sands and the swathes of the Atlas mountains surrounded by roaring winds. The people we meet there are members of the Ait Seghrouchen Berber tribe. While part of them retain their original lifestyle as breeders, more and more are breaking away from classical nomadic life to go their own, more modern ways. They tend to radio masts instead of livestock, get hired as day labourers or sort refuse brought into the region by tourism. Nothing of this is free of conflict. But no matter how they live, once a year all the members of the Ait Seghrouchen meet up for the Lemma festival in order to meet their spiritual being in a dance.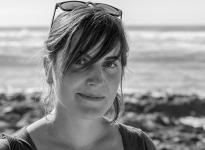 Director: Caroline Reucker, Producer: Caroline Reucker, Götz Reinicke,
Script: Caroline Reucker, DoP: David Finn,
Editor: Isabella Kohl, Caroline Reucker, Sound: Volker Ambruster, Music: Moritz Laux, Max Clouth
Caroline Ruecker was born in Marl, Nordrhein-Westfalen, in 1985. After finishing higher school in 2006, she began a traineeship in visual and aural media design and later worked for several film and TV productions. From 2010 to 2016 she studied documentary film direction at Filmakademie Baden-Württemberg in Ludwigsburg, graduating with a diploma. She lives and works as a freelance filmmaker in Berlin.