BLOCK 2
Saturday, 10. October, 20pm
LUGAR ALGUM / No Place / Kein Ort
Brazil, - / 2019 / Short Film / 22 min
OT Portuguese / UT German
Nego manages a cocoa farm with great dedication. When the farm is sold, he loses all ties to his land and former mission and is left with nothing. Is there anything to give him new confidence?
Director: Gabriel Amaral, Producer: Gustavo Morozini, Gabriel Amaral,
Script: Gabriel Amaral, DoP: Jero me Kim,
Editor: Caroline Leone, Sound: Debora Murakawa, Music: Rodrigo Trevisan
Gabriel Amaral was born to Brazilian parents in 1980, in London, UK. After graduating form New York Film Academy (2004) he worked as a producer/director of commercials and corporate films through his London-based production company, 3c Films.
BLOCK 6
Monday, 12. October, 20pm
Anamnyn aty Baqyt / My Mother's Name Is Happiness / Meine Mutter heißt Glück
Kazakhstan, None / 2020 / Short Film / 20 min
OT Kazakh / UT German
The girl Samal lives with her parents in a Kazakh village. She wants to attend university like her sister, but her father refuses to meet her wish.
Director: Shugyla Serzhan, Producer: Assel Yerzhanova, Yerlan Nurmukhambetov,
Script: Shugyla Serzhan, DoP: Sherhan Tansykbayev,
Editor: Shugyla Serzhan, Nursultan Nuskabekov, Sound: Kazbek Esmurzaev, Music: None
Shugyla Serzhan was born in 1995 in Tekes county, Yili region, Xinjiang Autonomous region, China. In 2016 she relocated to Kazakhstan, Nur-Sultan city, and is now holding the Kazakhstan passport. In 2017 she enrolled at the Cinema and TV faculty of Kazakh National University of Arts with. Her major is "Directing feature films", and her film direction studies take place at Studio Yelran Nurmukhambetov. Shugyla is now in her 4th university year.
BLOCK 6
Monday, 12. October, 20pm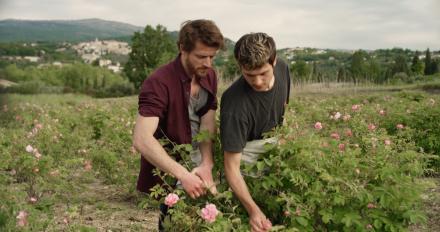 La place libre / The Free Place / Der freie Platz
Switzerland / 2020 / Short Film / 19 min
OT French / UT German
Mateo, a young dancer, returns to his home near Menton in order to reestablish contact with his brother Alberto after having been away for a long time.
Director: Filippo Demarchi, Producer: Britta Rindelaub,
Script: Filippo Demarchi, DoP: Patrick Tresch,
Editor: Thomas Marchand, Sound: David Puntener, Music: Lei Messiguié
Filippo Demarchi was born in 1988 in Zurich. Graduated as assistant director at the Conservatoire Libre du Cinéma Français, he received a Bachelor's degree in cinema at the ECAL/École Cantonale d'Art de Lausanne and a Master's degree in screenwriting at the INSAS Film School in Brussels.
BLOCK 7
Tuesday, 13. October, 18pm
TRADITION /
Kyrgyzstan / 2019 / Short Film / 13 min
OT Kyrgyz / UT German
In Kyrgyz culture, circumcision is not just a tradition but an essential part of life for every man. A boy is being mocked by his peers because he is not circumcised.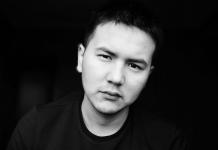 Director: Zhanuzak Mamytov, Producer: Stambulbek Mambetaliev, Zhanuzak Mamytov,
Script: Zhanuzak Mamytov, DoP: Bekzat Turatbek uulu,
Editor: Nargiza Mamatkulova, Sound: Hayrulla Rahmatilla uulu, Music: Ordo sahna
Zhanuzak Mamytov was born on 16.01.1996 in Batken, Kyrgyzstan. In 2019 he graduated from the Kyrgyz-Turkish University of Manas as a film director.
BLOCK 7
Tuesday, 13. October, 18pm
AARAMBH / The Beginning / Der Anfang
India / 2019 / Short Film / 21 min
OT Hindi / UT German
"Aarambh" tells a universal story about one of humanity's fundamental questions: What happens after death?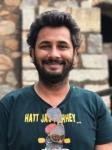 Director: SANDEEP KUMAR VERMA, Producer: SANDEEP KUMAR VERMA,
Script: SANDEEP KUMAR VERMA, DoP: GAURAV NAGESH,
Editor: KRATIKA ADHIKARI, Sound: ERKAN ERGINCI, Music: ERKAN ERGINCI
Sandeep Kumar Verma is a filmmaker based in Mumbai, India, involved in audio-visual content for the last 10 years. He has worked in almost all the aspects of filmmaking with some of the greatest minds. In the beginning of his professional career he started working in the reality shows of Channel-V. He has worked as one of the cinematographers in the documentary 'India's Daughter' on Nirbhaya's ominous rape case, co-produced by BBC. He has created a travelog documentary 'Chaurasi Ghat' and worked for the famous indie rapper Prabhdeep for his music video 'Suno' on drug-abuse in slums of Delhi, India. His independent debut short film, 'Aarambh' has won the 'Jury Award' at the 65th Oberhausen International Short Film Festival, 2019, Germany, one of the oldest short film festivals in the world. Also, 'Aarambh' has won 'Special Jury Mention' at the 'Short of The Year-Autumn, Spain' in 2019. Writer-director, Mr. Sandeep Kumar Verma intends to make features and web series in the upcoming years of his career.
BLOCK 7
Tuesday, 13. October, 18pm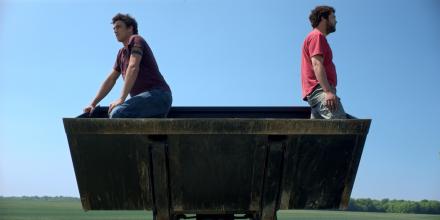 LA TRACTION DES POLES / Magnetic Harvest / Anziehungskraft
France / 2019 / Short Film / 24 min
OT French / UT German
Mickaël, a gay young organic farmer, is searching for his boar, which has run away. Besides, he's looking for so much more: love, recognition, self-esteem. But he won't have it without showing some courage, zest and willingness to deal with conflicts.
Director: Marine Levéel, Producer: Apaches films,
Script: Marine Levéel, DoP: Léo Roussel,
Editor: Marylou Vergez, Sound: Paul Jousselin, Music: Santiago Dolan
Marine Leveel studied fine arts and then entered a film school in Toulouse, ESAV. After her studies, she was found around professional shootings but is now focused on her own projects. From comics to films, her work revolves around the theme of natural landscapes and explores intimacy and immensity.
BLOCK 10
Wednesday, 14. October, 20pm
گاو آمریکایی / The American Bull / Der amerikanische Bulle
Iran / 2019 / Short Film / 14 min
OT Persian / UT German
Saheb lives in a village in the border region between Iran and Iraq. He is proud of his breeding bull which allows him to earn money for his family. But what if the bull loses his potency?
Director: Fatemeh Tousi, Producer: Fatemeh Tousi,
Script: Fatemeh Tousi, DoP: Reza Abyat, Hamed Baghaeyan,
Editor: Pouyan Sholevar, Sound: Hassan Shabankare , Behshad Moteie, Music: Sahand Niknezhad
Fatemeh Tousi was born in 1990 in Ahvaz, Iran. In 2012 she got her BA in environment engineering from Ahvaz University. She started her career making documentary shorts in her birthplace and after a while became a famous and successful documentary filmmaker who has received praise from the most important festivals.
BLOCK 10
Wednesday, 14. October, 20pm
La Tierra de l Passado / The Land of the Past / Das Land der Vergangenheit
Portugal / 2020 / Short Film / 19 min
OT Portuguese / UT German
In a far-east corner of Portugal, there is a language that embodies the region's past. As the only teacher of Mirandese, Afonso lives to pass on this fragile heritage to new generations.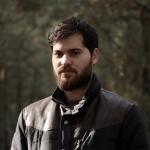 Director: Rui Falcao, Producer: Filipa Reis, Joao Miller Guerra, Patricia Faria, Daniela Soares,
Script: Rui Falcao, DoP: Leonor Teles,
Editor: Rui Falcao, Sound: Tiago Raposinho, Music: Galandum Galundaina
Rui Falcão, born in 1989, is a Portuguese filmmaker from Miranda do Douro. His student short film, Balance, from 2013, was selected at 47 festivals and received 10 awards. In his first professional film, The Land of the Past, from 2020, Rui Falcão returns to his hometown to reflect on the current fragility of the Mirandese language.
BLOCK 10
Wednesday, 14. October, 20pm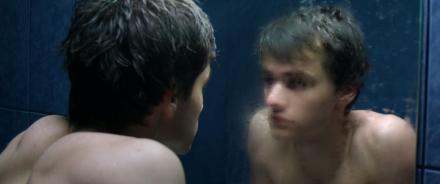 AVANT QUE JE M'EN AILLE / Before I Leave / Bevor ich gehe
France / 2019 / Short Film / 22 min
OT Romanian / UT German
Mihai, a 17-year-old boy from Romania, is just about to leave for France where he wants to work in an abattoir in order to support his family. His older brother knows the price he's going to have to pay. Doubts are building up.
Director: Julien Barazer, Producer: Norte Production,
Script: Julien Barazer, DoP: Maxence Lemonnier,
Editor: Nobuo Coste, Sound: Benjamin Silvestre (prise), Antoine Bertucci (montage) et Clément Laforce (mixage), Music: NS
After studying cinema, Julien Barazer focused on theatre and contemporary dance and directed his first plays based on texts by Pasolini, Fassbinder and others. In 2009, he participated in the "International Festival of Traditions of Actor's Performance" in Buenos Aires. Following the Screenwriting Workshop in La Femis, he is currently writing his first feature film.
BLOCK 10
Wednesday, 14. October, 20pm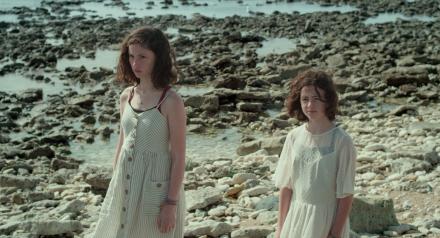 Massacre / / Massaker
France / 2020 / Short Film / 26 min
OT French / UT German
Two sisters have to leave their home island because the family can no longer afford to live there. Their sadness turns into rage at those who force them to leave: tourists. This last summer is going to be a dark and deadly one, as toxic as the seaweed that covers the beaches.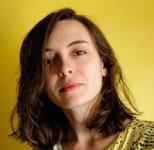 Director: Maïté Sonnet, Producer: Ethan Selcer,
Script: Maïté Sonnet, DoP: Marine Atlan,
Editor: Marylou Vergez, Sound: Clément Tijou, Clément Maléo, Xavier Thieulin, Music: Pierre Desprats
After studying cinema in Nantes, Maïté graduates from the Conservatoire Européen d'Ecriture Audiviosuelle. She's now a screenwriter for TV, cinema and animation films. Among her projects, a fantastic series about witch-hunting and a family story during the "Blousons Noirs" period can be found. She collaborates as writer to many scripts.
BLOCK 12
Thursday, 15. October, 20pm
Selkinchek / The Swing / Die Schaukel
Kyrgyzstan / 2019 / Short Film / 20 min
OT Kyrgyz / UT German
Winter is cold in Kyrgyzstan, and heating fuel is running out. The janitor of a village school is faced with the question whom to let suffer from the cold, his pupils or his family. A film on how scarce resources take their toll.
Director: Samara Sagynbaeva, Producer: Ali Toktakunov,
Script: Samara Sagynbaeva, Dastan Zhapar uulu, DoP: Zhumanazar Koichubekov,
Editor: Aizaada Omuralieva, Sound: Salamat Supataev, Alymbek Tursunbaev, Music: no music, natural sounds
Samara Sagynbaeva was born on August 13, 1990 in Alaikuu, Kyrgyzstan. She completed her journalism studies at Kyrgyz National University of Jusup Balasgyn in Bishkek and worked as a journalist for the local radio station Sanjyra. She currently lives in Prague and studies at FAMU International (Prague Film Academy).
BLOCK 13
Friday, 16. October, 18pm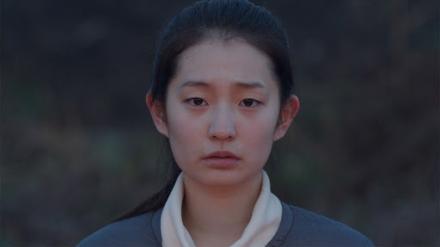 REONGHEE - ALIEN / Alien / Fremde
Korea, Democratic People's Republic / 2019 / Short Film / 15 min
OT Korean / UT German
Two young women live as illegal migrant workers. When immigration officers inspect the factory, Reonghee runs away and dies. Nobody seems to care. Only her friend wants at least to bury her with dignity.
Director: Jegwang Yeon, Producer: Jegwang Yeon,
Script: Jegwang Yeon, DoP: Sangkil Han,
Editor: Jegwang Yeon, Sound: Jiyoung Choi, Music: -
Jegwang Yeon was born 1990 in Seoul, South Korea. From 2010 to 2016 he attended Sangmyung University, Department of Filmmaking and graduated with the bachelor's degree. From 2016 to 2019 he joined the Korean National University of Arts, Department of Filmmaking (MFA).