HEIMATFENSTER 2021

SAT 9. OCT - SAT 16. OCT / FOYER / free entry


The Provinziale is an international festival that takes a look at various countries and places all around the world. But what about the province next door?
This programme is dedicated to films which focus on our own region. Heimatfenster means 'window to our homeland' and is a specially designed screening booth where films can be watched all around the clock during the festival.


Salidas / Departures / Aufbrüche
Germany / 2020 / undefined / 10 min
OT ohne Di / UT -
SALIDAS (Spanish, AUFBRÜCHE) is a fictional dance film that tells the story of the undertaker Giralda, who transports the deceased to the afterlife. Transposed into the language of Spanish flamenco dance and set in the old East German ship lift in Niederfinow, the film creates an associative fusion between Northern and Southern Europe, movement and silence, farewell and eternity.
Director: Michael Fetter Nathansky, Producer: Virginia Martin,
Script: Michael Fetter Nathansky, DoP: Valentin Selmke,
Editor: Kai Eiermann, Sound: Lorenz Fischer, Music: Ebla Sadek, Salvador Vega Carrasco "Rubin de la Ana", Antonio Piñera Moreno "Pumuki"
Michael Fetter Nathansky was born in Cologne in 1993 and spent his childhood and youth in Germany and Spain. In 2021, he completed his master's degree in directing at the Film University Babelsberg Konrad Wolf. In 2018 he founded the production company Contando Films together with the producers Virginia Martin and Anna-Sophie Philippi.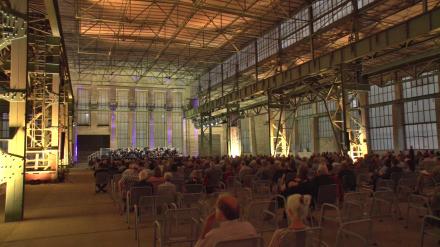 Die Industriemotive des Carl Blechen (AT) / The Industrial Motifs of Carl Blechen /
Germany / 2021 / undefined / 7 min
OT German / UT -
The industrial culture of a world-famous tourist destination is linked with that of a Brandenburg town. Amalfi and Eberswalde. Two facts are thereby snatched from oblivion: the towns have an important industrial history which was documented by a great unknown: CARL BLECHEN. He becomes a mediator between the past and the present.
Director: Iris Berndt & Donald Saischowa, Producer: Dosfilm,
Script: Dr. Iris Berndt, DoP: Donald Saischowa,
Editor: Donald Saischowa, Sound: -, Music: L.v.Beethoven "Die Geschöpfe des Prometheus"
Zukunft der Vergangenheit – Industriekultur in Eberswalde / Future of the past - industrial culture in Eberswalde /
Germany / 2021 / undefined / 39 min
OT German / UT -
On the occasion of the opening of the theme year Kulturland Brandenburg 2021 "Future of the Past - Industrial Culture on the Move", we are guests in the city of Eberswalde, which is on the one hand a cradle of industrialisation in Brandenburg and on the other hand an example of the dynamic development of new concepts for use in transformation processes. The film presents diverse projects by a wide range of actors and offers the opportunity to rediscover the city's industrial heritage, take a look behind the scenes and meet interesting people. But even better, set out yourself afterwards and explore the city! The journey is short.
Director: Johannes Klemt, Producer: Christian Müller-Lorenz, Johannes Klemt,
Script: Brigitte Faber-Schmidt, DoP: Johannes Klemt, Vladimir Traut,
Editor: Johannes Klemt, Sound: Tim Altrichter, Music: -