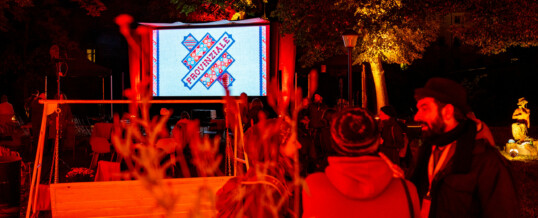 A look forward to the festival in Haus Schwärzetal from 8 to 15 October
What's new?
Every year when we present the upcoming festival, we are asked this question.
The answer is simple: the films are new. This year, we have looked through 699 submissions from 63 countries and selected 43 films from 22 countries such as Argentina, Australia, Brasil, Cambodia, China, Colombia, Estonia, Finland, Ghana, France, Greece, Germany, Iran, Kazakhstan, Kyrgyzstan, the Netherlands, Peru, Russia, Spain, Switzerland and the United States.
We will shows these films in 16 blocks. This means that our programme has grown a little volume-wise compared to recent years, so there will be late-night screenings on Thursday and Friday. Some of the programme blocks will comprise entries from different genres (nine long documentaries, eleven short documentaries, thirteen short feature films and ten animated films overall) because we have found over the last years that it's worth bringing different cinematic languages closely together.
What else is new?
We've got a new prize donor. Our long-time sponsor, the local housing company Eberswalder Wohnungsbau- und Hausverwaltungs-GmbH will donate an additional €2,000 for the Audience Award in the Animated Films Competition. We are happy about their support and also about all the public and private supporters and sponsors who have kept their faith with us: Medienboard Berlin-Brandenburg, the District of Barnim, the Municipality of Eberswalde, Sparkasse Barnim, the Autohaus an der Wilhelmsbrücke car dealership and many others.
Thanks to this support, we were also able to put a new urban installation in place, this time designed by our team members Katja Ziebarth und Sven Wallrath. Due to persisting insecurity about the conditions in autumn, we decided to use the larger Haus Schwärzetal again. Being there for the third time now, we began to question the concept of our beloved Gateway to the Province, which used to be installed in front of Paul Wunderlich Haus and, after all, had the purpose of being an entrance gate to the festival. So we decided to decentralise our visual landmark this time and offer various installations on the sites of our supporters and sponsors all over the town instead. They will be dedicated to the relationship between private and public urban spaces. After more than two years of restrictions on socialising, this also relates to the value of shared cultural and cinematic experiences. Just wait and see.
Anything else that is new?
We hope not. So now for the things that shouldn't change.
For years, our festival has had a paramount theme – the province. Issues of rural life, the use of resources, coming, going and staying, these are all topics that play a special role in our films. The world often looks different when viewed from the province because its inhabitants have special ties to the places they live in and the people they live with. Films that devote attention, love and tenacity to these people mean a lot to our understanding of the world. While the ferocious discussion of big issues evokes the impression of a constant emergency state, such works provide profundity, nuances and reflection. We strive to keep up this kind of complex view on the world, through our film selection process as well as the discussions with filmmakers and the special cultural programmes that accompany the festival.
The Provinziale is meant for our audience. While we always have filmmakers at the festival, and many directors use the chance to present their work in person, we mainly want to invite people from our region to meet here, watch and rate films together. That's why our awards landscape won't change in 2022. There will be four Audience Awards (one for each competition) plus the STACHEL Jury Award for the most interesting debate on sustainability across all genres. Because the way we understand sustainability, it is more a question than an answer.
This autumn we also want to revive the festival club, which had to be cancelled in the last years. It will be a Festival Shed now, with room to talk and socialise. Also, each of our competition teams will organise a nightly event there.
This year's poster theme and design line by Katja Lösche picks up on Matthäus Merian's 1625 panorama of Eberswalde and puts the province in limbo – an equally unsettling and inspiring artistic exploration.
Welcome to the Festival!
Share