Competition Screening 2
Saturday, 7. October, 22pm
Kino otok / Islands of Forgotten Cinemas / Inseln vergessener Kinos
Croatia / 2016 / Documentary / 32 min
OT Croatian / UT English
Cinema culture on the Croation islands. Nearly every small town and even the villages had a cinema, quite often an open-air one. In this film Ivan Ramljak shows us this period that has gone by but also the buildings which have not disappeared yet. Part of them have found new uses and change into magic places by the memories of the former cinema viewers.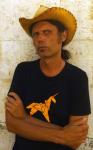 Director: Ivan Ramljak, Producer: Vanja Jambrovic,
Script: Ivan Ramljak, DoP: Ivan Slipcevic,
Editor: Damir Cucic, Sound: Hrvoje Radinic, Music: no
Ivan Ramljak is a film critic, director and independent curator. He is currently the program coordinator of Kratki utorak ("Short Tuesday") at Tuškanac cinema in Zagreb. So far, he has directed five short films, four of them in collaboration with Marko Škobalj.
Competition Screening 3
Sunday, 8. October, 16pm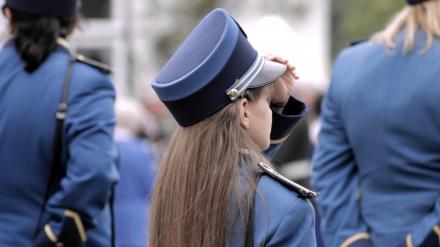 Revue
Germany, Denmark / 2016 / Documentary / 13 min
OT Danish / UT -
A documentary sketch of folk festivals, traditions and parades in the German-Danish border region. In hypnotic pictures it shows the pride of the sports people and the passion of the musicians. The cheerfulness of the guild brothers ends in the sight of military discipline. The ecstacy of the Lollfuss marksmen ends in the bliss of celebrating villagers.
Director: Urte Alfs, Producer: Urte Alfs,
Script: Urte Alfs, DoP: Urte Alfs,
Editor: Urte Alfs, Sound: Jana Irmert, Music: Vredeber Albrecht & Lars Precht
Urte Alfs (*1980) is a film maker, media artist and film editor. She studied at the film university Potsdam-Babelsberg and at the Media Art School in Cologne. Looking for different possibilities of filming she deals with things that were dropped, or found, and the idea of the archive. Being part of the group of female artists CALL, she works on the topics art and feminism. Her works have been selected for festivals at home and abroad.
Competition Screening 3
Sunday, 8. October, 16pm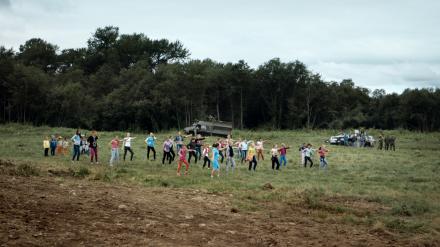 Tage der Jugend / Days of Youth /
Germany / 2016 / Documentary / 30 min
OT Russian / UT English
The Russian island Sachalin lies 8000 km east of Moscow. Every summer a state-supported patriotic military camp for young people takes place on it. The children practice armed struggle, learn patriotic songs and are schooled in the beliefs of the Orthodox Church. In the summer of 2015 the youth camp celebrated the 70th anniversary of the victory of the Soviet troups in World War II by reconstructing a historic battle, with the children representing the soldiers. The documentary "Days of Youth" shows the children from their everyday camp routines to the big party celebrating their victory, their friendships and experiences, dreams and hopes.
Director: Yulia Lokshina, Producer: Isabelle Bertolone, Marius Ehlayil,
Script: Yulia Lokshina, DoP: Zeno Legner,
Editor: Manon Falise, Yulia Lokshina, Sound: Yulia Lokshina, Music: ..
Yulia Lokshina was born in Moscow in 1986 and came to Germany in 1999. After school she studied culture in Passau, was the curator of the "CrankCookieKurzfilmtage" and worked in the fields of film and television. In 2011 she made her first medium-length documentary "At home". She is a grant winner in the media programme of the Heinrich Böll Foundation and has been studying documentary film and television journalism at the film college HFF Munich since 2011.
Competition Screening 3
Sunday, 8. October, 16pm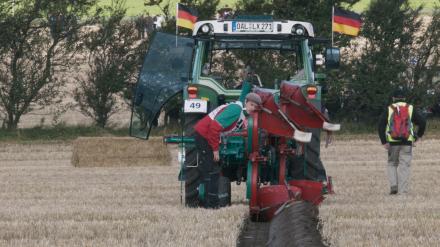 Vendeplov
Germany, Dänemark / 2016 / Documentary / 22 min
OT German / UT English
Sebastian has a passion for efficiency ploughing. The film shows his preparations and his participation in the World Ploughing Championships of 2015. Ploughers from all countries of the world try to create the best furrow. Seastian is a four-time German champion. He trains very hard and cares for his machines - and yet he is no farmer. A film about commitment and perfection and the things one simply does for oneself.
Director: Elisa May, Producer: Elisa May, Peter Seipel,
Script: Elisa May, Peter Seipel, DoP: Peter Seipel,
Editor: Elisa May, Peter Seipel, Sound: Birte Runge, Music: Jonas Teichmann
Grown up in Saxon Switzerland, Elisa May's urge to see the world got her to Hamburg first. She spent her training time with the NDR as a media worker and several years as a camera assistant in Hannover. Inspired and enthusiastic about documentary work, she is now realising the first film project of her own, while doing her media studies in Cologne.
Competition Screening 6
Monday, 9. October, 18pm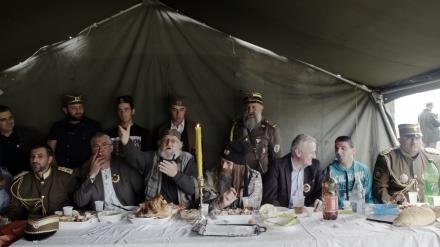 Rakijada - Distillated Village Tales / Rakijada - Destillierte Dorfgeschichten
Switzerland, Serbia / 2016 / Documentary / 18 min
OT Serbian / UT German
Pranjani is a little village in the middle of central Serbia. Its inhabitants work as foreign workers abroad or as farmers. Some of them call themselves Chetniks. They were resistance fighters in World War II and are fanatic patriots today. So far everything is normal. But once a year everything is different, when the Rakjada takes place in May, a drinking contest along with dexterity practices and the search for the best plum liquor - the Rakija.
Director: Nikola Ilić, Producer: Laurin Merz,
Script: Nikola Ilić, DoP: Nikola Ilić, Brand Ferro,
Editor: Rolf Hellat, Sound: Ivan Antić, Music: Heidi Happy
Nikola Ilić (*1977 in Belgrade) has been living and working in Switzerland since 2007. He worked at the City Theatre of Lucerne for three years. In 2010 he started studying at the Lucerne University of Applied Sciences & Arts / Video Department where he graduated with a Bachelor degree in Summer 2013 with the short documentary "Kanton Jugoslawien". Since 2013 he's been working as a freelancer in Filmmaking & cinematography. Since 2016 he has been a member of the Swiss Film Academy. He lives in between Lucerne (Switzerland) and Belgrade (Serbia).
Competition Screening 8
Tuesday, 10. October, 18pm
TOPOGRAPHIE einer Autobahnausfahrt / Connection Points Of German Autobahns /
Germany / 2016 / Documentary / 6 min
OT German / UT English
Cleverly chosen pictures about the well-known phenomenon of the world of German motorway exits seem to leave nothing unclear. The comment expressed by the professional speaker Christian Jungwirth seems to leave no question open. The film maker Oliver Gilch continues the tradition of Dieter Wieland who tried in more than 250 broadcasts on Bavarian "culture-scapes" on the radio "to teach seeing and opening one's eyes". And so this film manages as well to leave the viewers full of questions to themselves.
Director: Oliver Gilch, Producer: Oliver Gilch,
Script: Oliver Gilch, DoP: Oliver Gilch,
Editor: Oliver Gilch, Sound: Christian Jungwirth, Music: ohne
Oliver Gilch (*1974 in Regensburg) has been active making short films and video art since 1990. He was trained as a media designer for pictures and sound at the regional TV station Regensburg and worked in TV production until 2006. Since 2007 he has been a media freelancer.
Competition Screening 8
Tuesday, 10. October, 18pm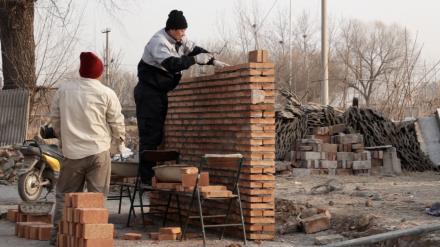 Bauangriff / Construction Assault /
Germany, China / 2015 / Documentary / 7 min
OT German / UT English
Beijing's periphery is undergoing a breathtaking change. With her experimental documentary, Laura Engelhardt takes us on a trip between constantly transforming areas at the edge of the city and hyperdimensional commercial screens in the city centre propagating progress and a better life. The experimental montage of the film makes this metamorphosis viewable.
Director: Laura Engelhardt, Producer: Laura Engelhardt, Kunsthochschule Berlin Weißensee,
Script: Laura Engelhardt, DoP: Laura Engelhardt,
Editor: Laura Engelhardt, Sound: Timo Lützenberger, Music: -
Laura Engelhardt is a researching artist and filmmaker. Born in 1988, she studied Architecture and Fine Arts in London and Stuttgart and completed the MA in Spatial Strategies at Berlin Weißensee School of Art in 2016.
Competition Screening 9
Tuesday, 10. October, 20pm
Grenzgänger / On the frontier /
Germany, Deutschland / 2016 / Documentary / 18 min
OT German / UT English
In the winter of 2012 quite a number of burglaries were committed in the villages Küstrin-Kiez and Bleyen along the Polish-German border. Worrying about possible further thefts and owing to the lack of police forces, a group of citizens was founded and legitimized by the state, who patrol the villages armed with torches and radio sets. In watching the nightly patrols, the feeling of security comes to the fore and the question whether citizens may take on the role of the police.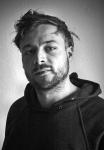 Director: Hannes Schilling, Producer: Fridolin Lehmann,
Script: Hannes Schilling, DoP: Jakob Reinhardt,
Editor: Dennis Gnoni, Sound: Fabian Koppri, Music: keine
Hannes Schilling, born in Erfurt in 1989, studied audiovisual media at the Beuth School of Technology in Berlin. At the same time he made several documentaries and worked as an asstistant at Theater an der Parkaue in Berlin. In 2014 he studied a term at the "Bezalel Academy of Arts and Design Jerusalem" and took part in seminars by Avi Mograbi. In 2015 he began his studies of film direction at the Film University Babelsberg KONRAD WOLF.
Competition Screening 13
Thursday, 12. October, 20pm
Der Block / The Block /
Switzerland / 2015 / Documentary / 9 min
OT Kyrgyz / UT English
In the middle of nowhere in the steppes of Kyrgystan the old basement of a house from Soviet times is getting more and more important in the daily life of the nomads. A portrait of the lack of an abstract resource of our time.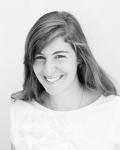 Director: Nadine Boller, Producer: Nadine Boller,
Script: Nadine Boller, DoP: Nadine Boller,
Editor: Nadine Boller, Sound: Yannick Tinguely, Music: .
Nadine Boller (*1986 in Switzerland) is a maker of documentaries and a camera woman. After graduating in film studies and English linguistics at Lausanne University at the beginning of 2013, she attended a course on documentaries at MET Film School Berlin. In the same year she realised her first project: a documentary about a nomad family in Kyrgystan. The post-production was done in Berlin, and the result were three films: "Erkinai the half nomad" (2016), "Impressions of Aiana" (2015) and "The Block" (2015). At present Nadine is in Kyrgystan preparing her next project, which is to be filmed in 2017.
Competition Screening 13
Thursday, 12. October, 20pm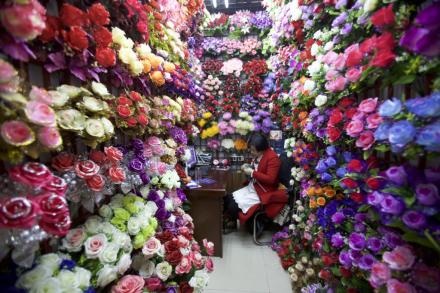 COMMODITY CITY
United States, China / 2017 / Documentary / 10 min
OT Chinese / UT English
Commodity City is an observational documentary exploring the daily lives of vendors who work in the largest wholesale consumer market in the world: the Yiwu Markets in China. The film explores moments of tension between commerce and individuality, between the goods for sale and the humans who sell them.
Director: Jessica Kingdon, Producer: aug & ohr medien (Agentur),
Script: -, DoP: Jessica Kingdom,
Editor: -, Sound: -, Music: Mark Corbin
Jessica is a Brooklyn-based filmmaker. She received her BA in Film Studies from Columbia University and her MA in Media Studies from The New School. She also works as an independent producer, and recently coproduced the feature film "Old Stone" which premiered at the Berlinale 2016 and won Best Canadian First Feature at TIFF 2016. Her residencies include the UnionDocs Lab and the Points North Institute Shortform Editing Residency. She is a member of the Brooklyn Filmmakers Collective.
Competition Screening 13
Thursday, 12. October, 20pm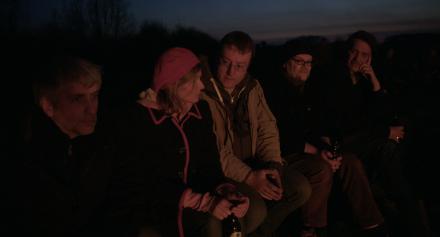 fast welt weit / the world, almost /
Germany / 2017 / Documentary / 22 min
OT German / UT English
East Westfalia. One of the places in Germany that are regarded as utterly provincial. Meeting again at this place after 30 years, Michael Girke, Bernadette La Hengst, Achim Knorr, Frank Spilker and Frank Werner are sitting round the Easter fire telling one another what happened to their teenage dreams. Including pieces from former productions of the artists portrayed, the film shows in an unobtrusive way what a home feeling means.
Director: Caroline Kirberg, Producer: Caroline Kirberg, Merle Kröger,
Script: Caroline Kirberg, DoP: Thilo Schmidt,
Editor: Colleen Scheepers, Philip Scheffner, Sound: Manja Ebert, Music: Frank Spilker (Die Sterne), Bernadette La Hengst, Achim Knorr
Caroline Kirberg (*1978), film director and producer, is dedicated to projects from the border area between documentaries, fiction and art in Berlin. The first short fictional film Caroline directed, "Luise ist 14", premiered at the Hof International Film Days 2007. Since that time she has specialised in films with a context of art and music. Caroline absolved courses in film studies and English philology at the FU Berlin and participated in renowned further training courses for film makers and producers, like Emerging Producers Jihlava 2015. She teaches at UdK Berlin, HGB Leipzig, PMMC Halle and the Merz Academy Stuttgart, and she is a common guest at panel discussions on film and art.