Block 2 - Animationsfilm / Kurzspielfilm/ Kurzdokumentarfilm
Saturday, 6. October, 22pm
Fædreland / Land of our Fathers / Land unserer Väter
Jordan, Denmark / 2017 / Short Film / 29 min
OT Arabic / UT English
After a fruitless life in Denmark and a painful divorce, Hassan returned to his homeland Jordan. He lost contact to his only son Wahid. Many years later Wahid visits his father, who wants to return to Denmark. For Hassan, this visit is his last hope of a reconciliation with his son.
Director: Ulaa Salim, Producer: DANIEL MÜHLENDORPH,
Script: ULAA SALIM, DoP: EDDIE KLINT,
Editor: JENNA MANGULAD, Sound: RUNE KRISTIANSEN, Music: RASMUS MØLDRUP
Ulaa Salim (1987) was born in Denmark, but both parents are originally from Iraq. In his films he uses his personal experience as an inspiration. In 2017 Ulaa Salim is graduating from The National Film School.
Block 3 - Kurzspielfilm / Kurzdokumentarfilm
Sunday, 7. October, 16pm
Les Heures-Encre / Black Hours / Schwarze Stunden
Switzerland, ZH / 2017 / Short Film / 28 min
OT French / UT German
Frank burns himself to death at his job in protest against the inhumane working conditions. The stories of two people emerge from this tragic incident. Léa, Frank's wife, is searching for the truth. Igor, the employee who found the dead body, stole the letter of protest for fear of losing his job.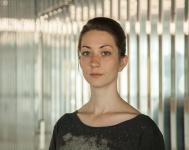 Director: Wendy Pillonel, Producer: Milena Colla,
Script: Wendy Pillonel, DoP: Ramón Königshausen,
Editor: Fleur Matson, Sound: Benoit Barraud, Music: Jakob Eisenbach
Wendy Pillonel was born in 1986 in Switzerland. She studied Arts in Art Education at the Art College Bern and Arts in Film Direction at the Art College Zurich. At present she is working on the manuscript of her first long feature film"Les Èclipsées", and she is in the cutting phase of her first long documentary film.
Block 5 - Kurzspielfilm / Kurzdokumentarfilm
Sunday, 7. October, 20pm
El becerro pintado / The Painted Calf / Das bemalte Kalb
Spain / 2017 / Short Film / 9 min
OT Spanish / UT English
Faces tanned from hard rural work, a barren landscape, a shining golden young bull and an altar are the main features of this unusual film - a parable with powerful images and a clear accusation combined.
Director: David Pantaleón, Producer: David Pantaleón,
Script: David Pantaleón, DoP: Cris Noda,
Editor: David Pantaleón, Fernando Alcántara, Oscar Santamaría, Sound: Carolina Hernández, Daniel Mendoza, Mendoproaudio, Music: -
David Pantaleón was born in 1978 in Valleseco, Gran Canaria, in Spain. He studied drama at the College Escuela de Actores de Canarias. In 2006 he began his career as a film director. At present he is preparing his first feature film: "Hombres De Leche" (milk men).
Block 5 - Kurzspielfilm / Kurzdokumentarfilm
Sunday, 7. October, 20pm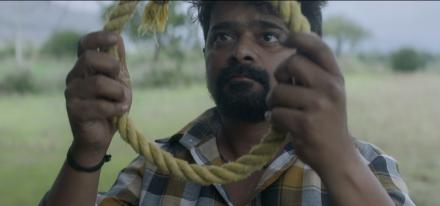 Sambhavtaha / Probably / Wahrscheinlich
India / 2017 / Short Film / 23 min
OT Marathi / UT English
The government buys thousands of acres of arable land in order to build a motorway. The farmers concerned dispute the necessity of this project. Most of them show only weak protests, but some threaten to commit suicide. This is the story of the farmer Vinoba, who decides to go into action. A rebellion is brewing within him.
Director: Gaurav Madan, Producer: Gaurav Madan,
Script: Gaurav Madan, DoP: Sunny Lahiri,
Editor: Devanshi Srivastava, Sound: Tarun Bhandari, Music: Mihir Bhatt
Gaurav Madan did his Masters in Communication Studies from DMCS, University of Pune. After assisting Shashank Ghosh (Quick Gun Murugun) and Raja Menon (Barah Aana) he started working as a freelance ad film director. Gaurav has produced and directed over 200 TV and digital commercials and has his own Ad Production firm Last Joker Pictures based in Mumbai. Gaurav is currently in the process of making his maiden feature film.
Block 6 - Kurzspielfilm / Animationsfilm / Kurzdokumentarfilm
Monday, 8. October, 18pm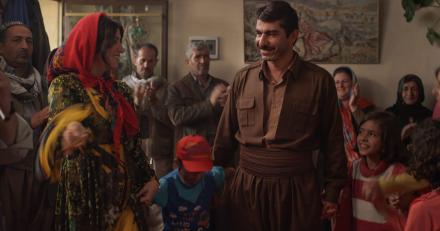 Alan /
Iran / 2017 / Short Film / 20 min
OT Kurdish / UT English
The family lives in modest circumstances, but today is a big celebration. Alan has become a man, but he seems a little bit lost in his vulnerability caused by the circumcision as well as his lasting childishness. Also the earnestness of the fathers is darkening the festivity. Until now a calm life of daily routine, family values and religious traditions could be sustained bravely, but it is ended by upcoming war actions – that are still present in Syria.
Director: Mostafa Gandomkar, Producer: Mostafa Gandomkar,
Script: Mostafa Gandomkar, DoP: Hashem Moradi,
Editor: Sadeq Rezania, Sound: Arash Qasemi, Music: -
Mostafa Gandomkar was born in Iran in 1986. He studied Cinema at the Tehran Univerity of Art. He is currently teaching at some universities and at the Iranian Youth Cinema Society. He began with photography and the making of documentary films, and he is now a producer and director.
Block 6 - Kurzspielfilm / Animationsfilm / Kurzdokumentarfilm
Monday, 8. October, 18pm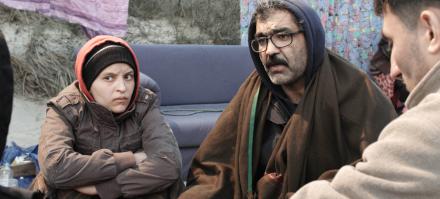 Bacha Posh /
France, switzerland / 2018 / Short Film / 19 min
OT French / UT English
Nadim, a boy from Afghanistan, lives with his family in a refugee camp in Calais, the "Jungle of Calais", where he helps his father in his shop right in the middle of this "jungle". But Nadim harbours a secret. He is a "Bacha Posh", a girl, who has been raised as a boy. And Nadim has a dream: she wants to escape to be free.
Director: Katia Scarton-Kim, Producer: Janine Piguet, Thierry Pradervand, Anabelle Bouzhon,
Script: Katia Scarton-Kim, DoP: Thierry Pradervand,
Editor: Julie Quintard, Lucie Brux, Sound: Mitch Gasser, Music: Qais Essar
Katia Scarton-Kim is a director and an actress. She studied at the Conservatoire d'art dramatique in Lausanne, Switzerland. Her first short feature film"Kristal" was produced in 2004. Between 2009 and 2012 she made four documentary films about migration and women. In 2016 she finished "Sous la peau", her first long feature film.
Block 8 - Kurzspielfilm / Animationsfilm
Tuesday, 9. October, 18pm
Kampung Tapir /
Malaysia / 2017 / Short Film / 17 min
OT Chinese / UT English
Anne and her husband are migratory Malayan workers from the village Kampung Tapir. One Sunday afternoon they leave their five-year-old daughter to earn their living in Singapore. Looking for a better life, Anne asks herself where their family should settle. But even the Malayan tapirs are forced to leave their natural living space.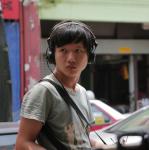 Director: Aw See Wee, Producer: Ooi Wei Seng,
Script: Aw See Wee, DoP: Lee Ling,
Editor: Erik Moh, Sound: Sean Yap Shao Chi, Music: -
Born in a family of ceramic making, Aw See Wee is one of the new independent filmmakers from Malaysia. See Wee started his interest in cinema since very young, after the film study in Taiwan (National Taiwan University of Arts), he came back and based in the capital of Malaysia, Kuala Lumpur. Influenced by the traditional asian culture, his film works mostly focusing on family relationship and social phenomenon.
Block 8 - Kurzspielfilm / Animationsfilm
Tuesday, 9. October, 18pm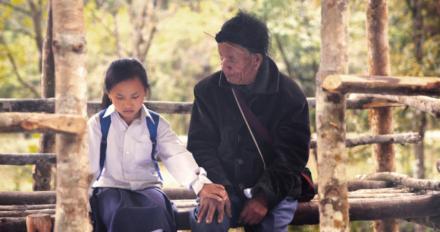 Aaba / Grandfather / Großvater
India / 2016 / Short Film / 21 min
OT Hindi / UT English
In the highlands of Arunachal Pradesh, in the Northeast of India, a girl lives alone with her grandparents. After her grandfather has been given a diagnosis of lung cancer, she observes that he very calmly begins to dig his own grave and to settle in it with his personal belongings. His lighthearted approach to dying is a very sensitive way of accepting the natural cycle of life and death and is full of laconic humour. But life also means that not everything happens according to plan.
Director: AMAR KAUSHIK, Producer: AMAR KAUSHIK,
Script: AMAR KAUSHIK, DoP: SOUMIK MUKHERJEE,
Editor: ARINDAM GHATAK, Sound: SHAJITH KOYERI, Music: ALOKANANDA DASGUPTA
Amar Kaushik (Uttar Pradesh, INDIA, 1982) grew up between Kanpur with his grandparents and the north-eastern state of Arunachal Pradesh. Amar's fondness for travel made him take up a job in marketing in a firm that sold Holidays and Tours. Amar spent the next 9 years making his way up the ladder from being an assistant director to associate director to a second unit director, while working with some of the best minds in Bollywood. "Aaba" based on a true story that he had heard from his mother as a child while growing up in Arunachal Pradesh. He is currently working towards his first feature film.
Block 8 - Kurzspielfilm / Animationsfilm
Tuesday, 9. October, 18pm
Коливо / Koliva /
Macedonia, Bulgaria / 2017 / Short Film / 24 min
OT Macedonian / UT English
A Macedonian village begins the traditional slaughtering of pigs. Dana, the wife in the farmer's family, sees to the catering for the men. When her former lover appears, she is shocked because she carries a hidden love in her heart.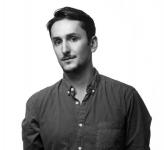 Director: Andrey I. Volkashin, Producer: Elena Stanisheva,
Script: Andrey I. Volkashin, DoP: Kiril Prodanov,
Editor: Nevelin Vulchev, Sound: Nenko Milev, Music: Igor Vasilev Novogradska
Andrey I. Volkashin (Shtip, MACEDONIA, 1985). He graduated film directing at NATFA in Sofia, Bulgaria. His short documentary "Nothing in the Air", premiered at Sofia International Film Festival. His graduation project "Kinder Surprise", was awarded the Audience Award at the SIFF. A medium length musical comedy "Shush... Sing to me" premiered at the Vilnius International Film Festival and is already enjoying a cult status in Bulgaria..
Block 10 - Kurzspielfilm / Dokumentarfilm
Wednesday, 10. October, 18pm
La Virgen Negra / Black Maria / Die schwarze Jungfrau
Colombia / 2018 / Short Film / 18 min
OT Spanish / UT English
Belisario, a peasant in the Colombian Andes, feeds and shears his sheep. A healer comes to him to help his sick wife. But for his ritual the healer needs an object that is buried on top of a mountain. Belisario starts on his search.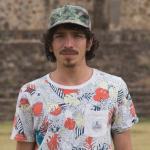 Director: Juan Pablo Caballero, Producer: Oscar Ruiz Navia,
Script: Juan Pablo Caballero, DoP: Mateo Guzmán,
Editor: Gustavo Vasco, Sound: Camilo Martínez, Lorenzo Caballero, Music: -
Juan Pablo Caballero is a colombian film director and rockclimber, graduated from Audiovisual Arts at Autonomous University of Bucaramanga. Mostly works in remote places. Experienced in shooting extreme sports documentaries wich has given him a preference for outdoors while shooting. He works also as a Commercials director and has got some international prizes. Currently working on his third short film to shoot in 2018 and is writing his first feature film.
Block 11 - Kurzspielfilm / Animationsfilm/ Kurzdokumentarfilm
Wednesday, 10. October, 20pm
El color de la sed / The color of thirst / Die Farbe des Durstes
Spain / 2017 / Short Film / 21 min
OT Spanish / UT German
Spain suffers from a period of extreme drought, which the rural world is particularly affected by. Medardo, a sheep breeder, sees the state of his flock get worse and worse, and the lambs are not gaining weight. His situation worsens even more because thieves keep stealing sheep from him. Medardo's principles of honesty and loyalty, which always characterized him, are put to a hard test.
Director: Gala Gracia, Producer: Daniel Vergara,
Script: Gala Gracia, DoP: Daniel Vergara,
Editor: Gala Gracia, Sound: Leo Dolgan, Music: Lative Case
Gala Gracia studied Audiovisual Communication at the Complutense University of Madrid. She also studied film directing and screenwriting at Kingston University in London. Gala has worked in audiovisual production in Spain, United Kingdom, Bulgaria and Australia. She currently lives in Barcelona, where she keeps writing screenplays and works as a freelancer for diverse audiovisual projects.
Block 11 - Kurzspielfilm / Animationsfilm/ Kurzdokumentarfilm
Wednesday, 10. October, 20pm
Zanburdar / The Beekeeper / Der Imker
Iran / 2017 / Short Film / 15 min
OT Persian / UT English
With deep commitment, an old beekeeper cares for his bee colonies in the barren Iranian mountains. Many years of war have changed his life. He has lost his son, and there is hardly anybody in the village who buys his honey. But if he gave up his dedicated care for the bees, everything would be lost. With vivid pictures the film speaks of a great idea: Never stop in times of war to work for peace.
Director: Mohammad Talebi, Producer: Mohammad Talebi,
Script: Mohammad Talebi, DoP: Mohammad Talebi,
Editor: Mohammad Talebi, Sound: Mohammad hosein Mehrju, Music: Selection
Mohammad Talebi was born in Sarband –Shazand (Iran). After he received his Bachelor of Dramatic Literature, he studied TV Production (Master of Arts). Currently he works as a TV producer and director.
Block 13 - Kurzspielfilm / Animationsfilm/ Kurzdokumentarfilm
Thursday, 11. October, 20pm
Sweet Home Czyzewo /
Poland / 2017 / Short Film / 28 min
OT Polish / UT English
"You are no longer one of us" is what Marcin gets to hear from an old friend at a party, and he has to admit that he is right. Marcin had been in America for three years, and his home town is not in a hurry to welcome him back. He wants to open a shop with a former lover of his younger years, but his hopes clash with a sober and hostile reality. He may lose everything he had been looking forward to and that he believed in up to now.
Director: Jakub Radej, Producer: Martyna Dobrowolska,
Script: Jakub Radej, DoP: Jozefina Gocman,
Editor: Jakub Radej, Tomasz Maczka, Sound: Daniel Kitamikado, Music: -
Jakub Radej is film director and screenwriter born in 1991 in Cieszyn. Graduate of Film Directing at the Radio and Television Department of the University of Silesia and the DOK PRO documentary course at the Andrzej Wajda Master School of Film Directing. He was also a student of Cultural Studies at the University of Warsaw. He also worked as an assistant director on feature films.
Block 13 - Kurzspielfilm / Animationsfilm/ Kurzdokumentarfilm
Thursday, 11. October, 20pm
Ridgeland /
United States, Italia / 2017 / Short Film / 15 min
OT English / UT English
Ridgeland is a small place in South Carolina. Keith and his friend Rae live and work there. Rae likes his home town and sees his future in it. For Keith it is quite the contrary, he would like to escape from his life in the small town. How will the two friends decide to deal with their contrary perpectives and wishes? What will happen to their friendship?
Director: Taylor MacDonald, Producer: Jameson Everett, Tucker MacDonald, Dumaine Babcock, and Jean-Luc McMurtry,
Script: Taylor MacDonald & Andrew Halley, DoP: Tucker MacDonald,
Editor: Taylor MacDonald, Sound: Tom Schmidt and Matt Hill, Music: Ezekiel Honig
Taylor MacDonald is a filmmaker from Hilton Head, SC that recently earned his BFA in Film & Television from the Savannah College of Art & Design. His work has ranged from a collection of narrative short films, commercials, and music videos. He is constantly seeking new opportunities to bring complicated and challenging imagery, stories and characters to life.