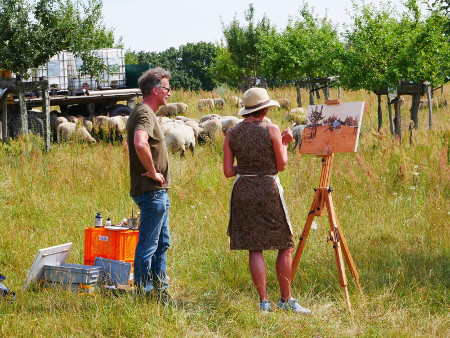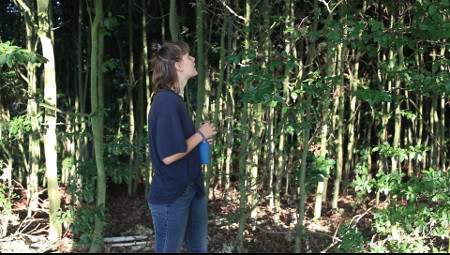 FARMERS' FILM NIGHT
THU 17. OCT / 10 PM / FESTIVAL CLUB
A new film from Antje Schiffers' archive named I love being a farmer and I always will. Antje offers farmers to paint their farms. "My aunt used to have such a painting," she says. "I was told that it had been painted after the war, when only farmers had enough to eat, and that made them interesting business partners for painters." In exchange for the paintings, she asks the farmers to film and comment on their premises, businesses and daily work.Antje has been doing this kind of bartering since 2000, mostly in cooperation with Thomas Sprenger. Her project archive contains more than 30 films, made in England and Wales, the Netherlands and Switzerland, Romania, Macedonia and Austria,Spain, South Africa, Hungary and Germany.For about one week, she remains poised in front of her easel like a 19th-century plein air painter. The farmers film themselves doing the things they have always been doing, starring as themselves. When Henk Waterink forgot to film his cattle on their way back to the stable in the afternoon for the second time, the animals were driven outside and back in once again. In the Antonesi family, everybody is wearing garbs at the beginning of the film, making hay and serving refreshments on the grass –just like they are on the Romanian folklore TV programme.
THE BEHRINGHOF FARM – RALF BEHRING 2019
The film tells a story of husbandry –the care for soils, forests, biodiversity and orchards –, of nightly grain harvesting, sheep shearing and precipitous prices for cereals. It is about the concern for life on earth and the joy of having the opportunity to shape the future which lies in a farmer's hands-on life.
More films will be presented according to the audience's choice, accompanied by an international liquor bar.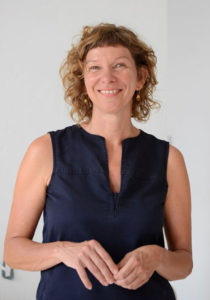 ANTJE SCHIFFERS
Antje Schiffers, born 1967 in Heiligendorf. Antje was a flower painter in Mexico, a mural artist in Italy, Russia, Kazakhstan, Kyrgyzstan and Uzbekistan, a corporate artist for a tyre manufacturer, the Siemens Company and the BASF, ambassador and correspondent in Eastern Europe and has developed her own form of barter with both farmers and business consultants. Since 2003, she has been working with Kathrin Böhm (UK) and Wapke Feenstra (NL) under the name of Myvillages artists' initiative. She has had exhibitions at the Secession, Vienna, the Sprengel Museum, Hannover, the Galerie für Zeitgenössische Kunst, Leipzig, the TENT, Rotterdam, the Frieze and Tate Britain, London; the CAAC, Sevilla, the MUSAC, León, the Museum Ludwig, Budapest, the Museum Morsbroich, Leverkusen, the Skirball Museum, Los Angeles, the Haus der Kulturen der Welt and the Hamburger Bahnhof, Berlin. Since 2000, Antje, often accompanied by Thomas Sprenger, has been pursuing her project I love being a farmer and I always will.
STARRING: THE PROVINCE
SAT 19. OCT / 2PM / HALL
HOUNDS
Henrik has moved away from Berlin to live on an old farm in the Uckermarkregion together with his 16-year-old son Lars. They are planning to convert their barn into a wedding hotel. Being new to the village, they live apart from the locals. But Christmas, the Joyous Season, is getting nearer, making the whole chaotic lot move closer together in a sitting room in the Uckermark. A great piece of cinema with wide skies arching over a magnificent landscape.
| DIRECTOR Ann-Kristin Reyels PRODUCER Susann Schimk, Jörg Trentmann SCRIPT Marek Helsner, Ann-Kristin Reyels DOP Florian Foest EDITOR Halina Daugird MUSIK Henry Reyels GERMANY 2007 86 min OT German
ANN-KRISTIN REYELS
Ann-Kristin Reyels grew up in Leipzig. In 1990, she moved to Nuremberg with her family, where she graduated from higher school in 1996. She began studying politics and history but dropped out after two months and then went to England for a year. In the following years, she worked as a trainee and assistant at several film and TV productions.
GLOBAL PROVINCE
SAT 19. OCT / 4PM / HALL
TANZANIA TRANSIT
A well-occupied train is rolling through Tanzania on a trip of several days from the capital into the province. In the third class, Massai Isaya is seated next to his grandson William, who earns his living in urban showbusiness. In the next compartment, we bump into Ruki, who is trying a fresh start as a bar owner. And at the front of the train, reserved for the wealthy passengers, we are met by the enigmatic voice of Father Peter, a priest with a past career as a gangster who has made it his job, whether solicited or not, to take care of his fellow travellers' worries.
| DIRECTOR Jeroen van Velzen PRODUCER Digna Sinke SCRIPT Jeroen van Velzen, Esther Eenstroom DOP Niels van Koevorden EDITOR Patrick Minks SOUND Tim van Peppen MUSIC Niels van Koevorden
NETHERLAND 2018 75 min OT Swahili UT Englisch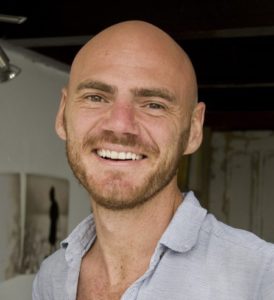 JEROEN VAN VELZEN
At the age of 2 Jeroen van Velzen (1979, Heerlen) movedabroad. He lived a.o. in Kenya, India and South Africa. After high school in England he followed an orientation year at the Brighton College of Technology (Fine Art). From 2001 onwards he has made documentaries. In between he has worked as a designer for his import company in India, was owner of an events boat and worked as a marketing manager in the hotel of his father in Kenya. In 2009 he graduated from the Netherlands Film and Television Academy in the study documentary direction.