BLOCK 2
Saturday, 10. October, 20pm
Mud Road / / Schlammpiste
Italy, Ethiopia / 2019 / Documentary / 10 min
OT Amharic / UT -
A young woman is expecting the birth of her child. An ambulance car picks her up in the village in order to give her a five-hour ride to a hospital. The film lets us take part in their journey on a road in Southern Ethiopia.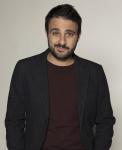 Director: Francesco De Giorgi, Producer: Francesco De Giorgi,
Script: Francesco De Giorgi, DoP: Francesco De Giorgi,
Editor: Giovanni Iavarone, Sound: Tommaso Barbaro, Music: No music
Born in Salento, Francesco De Giorgi studied Cinema at the University Roma Tre in Rome and Film Direction and Production at the Centro Sperimentale di Cinematografía. Now, he works as a freelance filmmaker for ADV productions and agencies and TV companies. He usually works for commercials, branded contents and web videos.
BLOCK 4
Sunday, 11. October, 20pm
Jungs von der Kante / Boys of the Edge /
Germany / 2019 / Documentary / 28 min
OT German / UT -
A group of young people have seized a derelict area in Haibach near Aschaffenburg, settled in and built a BMC course. It has become their favourite free-time meeting spot, a place where they come together, socialise and party. We follow them as they are gradually driven from their habitat and learn about their stories, experiences and hopes.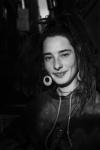 Director: Alexandra Leibmann, Producer: Alexandra Leibmann,
Script: Alexandra Leibmann, DoP: Toni Müller,
Editor: Alexandra Leibmann, Sound: Bôba Ménde, Music: -
Alexandra Leibmann was born in Nerjungri, Russia, on 4th June 1995. She grew up in Aschaffenburg. In 2015, she began studies in Visual Communication at Kunsthochschule Kassel. From 2016 on, she attended Jan Peters's film and motion picture class. From 2019-20, she took part in an exchange year at Athens School of Fine Arts.
BLOCK 4
Sunday, 11. October, 20pm
Waldstück / A Piece of Forest /
Germany, Deutschland / 2019 / Documentary / 25 min
OT German / UT -
Three different groups of people examine a woodland area in the Oderbruch region. Traces of a former nazi labour camp have almost disappeared. Confronted with diary entries of the prisoners and other finds, we have to wonder about the implications of vanishing remembrance.
Director: Hannes Schilling, Producer: Andrea Wohlfeil,
Script: Hannes Schilling, DoP: Johannes Greisle, Jana Pape,
Editor: Paul Gröbel, Sound: Pavel Mozar, Fabian Koppri, Music: keine
Hannes Schilling was born in Erfurt in 1989 and graduated in Audio-visual Media in 2015. He spent an exchange semester at Bezalel Academy of Arts and Design Jerusalem in 2014. Since 2015, he has been studying film direction at Filmuniversität Babelsberg Konrad Wolf. His film DER PROBAND won the 2019 German Short Film Award.
BLOCK 4
Sunday, 11. October, 20pm
APACHE /
Spain / 2019 / Documentary / 20 min
OT Spanish / UT -
For ten years, Jesus has been living on the streets of Valencia and struggling for roost, food and alcohol. Now he takes part in a scheme which is to secure a job and housing for him. Two years into the programme, he has his doubts about being helped. He'd rather have a chance to reach his goals on his own.
Director: Octavio Guerra Quevedo, Producer: Elisa Torres Adam,
Script: Carlos Aparicio,Octavio Guerra, DoP: Carlos Aparicio,
Editor: Octavio Guerra, Sound: Octavio Guerra,Alex H. Capilla, Music: Iván Mora
Graduated in Journalism at the University of Valencia, Octavio Guerra Quevedo also took the Iberoamerican Masters of Film and TV Script Writing (FIA-UIMP, 2002-2004. Valencia). His short documentary "The Russians´ Machine" has been nominated for the Goya Awards.
BLOCK 5
Monday, 12. October, 18pm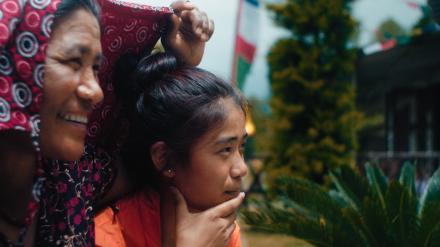 FOR YOUR SAKE / / Deinetwegen
Germany / 2019 / Documentary / 37 min
OT Tamašeq / UT -
Two daughters from a rural family in Nepal belong to the first generation to get the chance of studying abroad. Things have changed, but people measure their new opportunities with care. Between tradition and liberation, familiar security and the prospects of education and career, there remains an area of conflict which the film exemplifies and makes tangible for three generations of women.
Director: Ronja Hemm, Producer: Ronja Hemm,
Script: Ronja Hemm, DoP: Jonathan Brunner,
Editor: Ronja Hemm, Sound: Daria Somesan, Music: -
Ronja Hemm grew up in Bamberg and studied time-based media at University of Applied Sciences in Mainz. During her studies she devoted herself mainly to documentary formats. The documentary film For Your Sake is her graduation film.
BLOCK 5
Monday, 12. October, 18pm
Saudade /
Germany, Brasilien / 2019 / Documentary / 30 min
OT German / UT -
The word saudade, with no precise equivalent in other languages, goes back to African religions and describes the bonds of African-Brasilian people with their ancestors and all those enslaved in past centuries. In her film, director Denize Galiao gets to the bottom of her feelings relating to her ancestry and roots in an attempt to retain them after having lived in Germany for more than twenty years.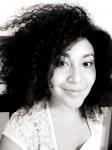 Director: Denize Galiao, Producer: Michael Kalb,
Script: Denize Galiao, DoP: Dino Osmanovic (ASBH),
Editor: Valeria Valenzuela, Sound: /, Music: /
Denize Galiao was born in Porto Alegre, Brazil, in 1980. In 1998, at the age of 18, she emigrated to Germany. In 2008, she successfully apllied for a scholarship at Hochschule für Fernsehen und Film in Munich. Her graduation film, Saudade, received awards for the best student documentary both at IDFA and the US-based Full Frame festival.
BLOCK 5
Monday, 12. October, 18pm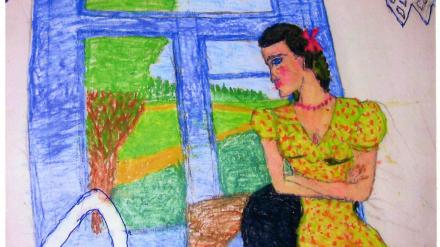 Mnie treba pociskau / I Need the Handshakes / Ich brauche den Händedruck
Poland, Belarus / 2020 / Documentary / 18 min
OT Belarusian / UT -
Valiantsina is 92 years old. Living in a remote Belarusian village, she cares for her multiply impaired daughter and keeps dusty notebooks and folders with drawings from her youth. They take us on a journey through the unfamiliar world of a forgotten young woman whose only way to express joy and fear, love and hopes is through poems and drawings..
Director: Andrei Kutsila, Producer: Beata Krasicka,
Script: Andrei Kutsila, DoP: Andrei Kutsila,
Editor: Andrei Kutsila, Sound: Slava Kruk, Music: ---
Andrei Kutsila was born in 1983 in Baranovichi in Belarus. In 2007 he earned a degree in journalism from the Belarusian State University. In 2009 he finished the Belarusian State Academy of Arts. Currently he works as a freelancer for studios and TV. In 2018 Andrei got the IDFA Award for Best Mid-Length Documentary for his film "Summa".
BLOCK 6
Monday, 12. October, 20pm
Silvia /
Romania / 2019 / Documentary / 15 min
OT Romance Languages ​​(Other) / UT -
For fifteen minutes, we share a room with Alin, a Romanian lorry driver. As we traverse the northern province of Italy in his cabin, we experience two simultaneous realities: the motorway outside and Alin's longing for his family back in Romania.
Director: Codrin Vasile, Producer: Codrin Vasile,
Script: Codrin Vasile, DoP: Codrin Vasile,
Editor: Ilinca Mirosanu, Sound: Ilinca Mirosanu, Music: n/a
Codrin Vasile is a young Romanian film student currently studying at UNATC.
BLOCK 7
Tuesday, 13. October, 18pm
Аяна / / Ayana
Kyrgyzstan / 2019 / Documentary / 20 min
OT Kyrgyz / UT German
Living in a traditional rural part of Kyrgyzstan, Ayana doesn't give up on her wish to become a kokboru player. So far, the equestrian sport has been confined to men. Thanks to her parents' support, though, Ayana stands a very good chance to become the first female participant in Kyrgyzstan's national pastime.
Director: Aidana Topchubaeva, Producer: Aidana Topchubaeva,
Script: Aidana Topchubaeva, DoP: Beksultan Abibakir uulu,
Editor: Hayrulla Rahmatilla uulu, Sound: Alymbek Tursunbaev, Music: -
Aidana Topchubaeva was born in the south of Kyrgyzstan, in Osh city. She went to three different schools, all of which are named after great women. In 2014, Aidana entered the Kyrgyz-Turkish University of Manas, at the Faculty of Journalism. This year she successfully graduated from the university. She has also been working in the media company Azattyk since her third year at university.
BLOCK 11
Thursday, 15. October, 18pm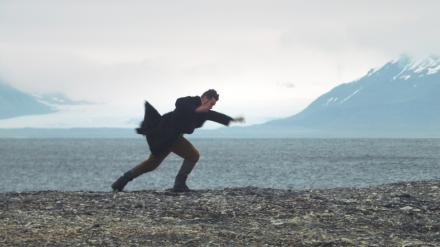 FRAM / Forward / Vorwärts
Finland, Norway, Svalbard / 2019 / Documentary / 28 min
OT Finnish / UT -
A field trip to the polar wilderness of Svalbard, formerly known as Spitsbergen. The filmmakers, Freundlich and Raekallio, let us take part in their geographic and artistic approach to what others call the back of beyond. Self-reflection and modern dance give us a fresh and unconventional experience of this rugged landscape.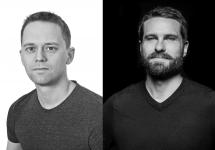 Director: Thomas Freundlich, Valtteri Raekallio, Producer: Thomas Freundlich, Valtteri Raekallio,
Script: Thomas Freundlich, Valtteri Raekallio, DoP: Thomas Freundlich, Valtteri Raekallio,
Editor: Thomas Freundlich, Valtteri Raekallio, Sound: Akseli Soini, Sakari Karjalainen, Music: Sputnikburg feat. Merrheini Luoto
From 2012 to 2014, Freundlich and Raekallio were the artistic directors of Finland's Loikka dance film festival. Freundlich and Raekallio's previous dance film collaboration Cold Storage (2016) has received 33 awards and has been the most widely screened Finnish short film at festivals worldwide for two consecutive years (2017–2018).
BLOCK 12
Thursday, 15. October, 20pm
CAMBIA TUTTO / Everything Changes / Alles verändert sich
Italy, USA / 2019 / Documentary / 4 min
OT Italian / UT -
2500 frames in four minutes paint a portrait of Cavaso del Tomba, a village in Northern Italy. The result is both documentary and animation, or something in between whose richness of detail reveals things often overlooked and points our attention to places we would be oblivious of otherwise.
Director: Ana Mouyis, Fox Schwach, Producer: Ana Mouyis, Fox Schwach,
Script: Ana Mouyis, Fox Schwach, DoP: Fox Schwach,
Editor: Ana Mouyis, Sound: Fox Schwach, Music: Fox Schwach
Ana Mouyis is an Illustrator, Animator, Director, and Assistant Professor of Computer Animation at The University of Louisiana at Lafayette. In 2014 she co-founded Circle Line Projects, an experimental production company. In addition to client work, she directs and animates independent short films which have been screened at film festivals worldwide.