BLOCK 1 / Eröffnungsabend
Saturday, 9. October, 18pm
Suot tschêl blau / Under Blue Skies / Unter dem blauen Himmel
Switzerland / 2020 / Documentary / 72 min
OT Romansh / UT German
The film accompanies a process in a small community in the breathtaking landscape of the Upper Engadin whose adolescents were drawn into the turbulent life of youth culture, music and drugs in Zurich in the 1980s and 90s. Many did not survive that tragic period. After more than two decades of silence and shock, friends and families of the survivors come together and finally find a way to share their memories of those lost and talk about possible causes for the loss. A film about mourning, understanding, analysing and reconciliation.
Director: Ivo Zen, Producer: Ivo Zen,
Script: Ivo Zen, DoP: Kaleo La Belle,
Editor: Mischa Hedinger, Sound: Reto Stamm, Music: Pascal Gamboni
Ivo Zen was born in 1970 and grew up in Santa Maria, Val Müstair. Following elementary studies in architecture at ETH Zurich, he received a diploma in film and video from Geneva Ecole Supérieure des Beaux-Arts in 2003. In 2004 he founded Alva Film, an independent film production association, in Geneva. He has been a board member of the ARF/FDS Swiss Film Direction and Scriptwriting Union since 2018. At the moment, he is developing the cinema documentary 'Unsichere Sicherheit' (Unsafe Security) together with Mischa Hedinger.
BLOCK 4
Sunday, 10. October, 20pm
Historias del Cabo Corrientes / Stories from Cabo Corrientes / Geschichten aus Cabo Corrientes
Spain, Colombia / 2020 / Documentary / 77 min
OT Spanish / UT English
Cabo Corrientes in Colombia is a community whose origins can be traced back directly to Spanish slave trade. The residents subsist on farming and fishing. Little tradition has survived from their African past, but a magic glow seems to radiate from their unique culture of storytelling where people try to outdo one another in delivering preposterous implausibilities. The film gives insight into an unconventional form of social adhesion which, nevertheless, has been heavily strained and eroded in Colombia's recent past.
Director: Jordi Esteva, Producer: Jordi Esteva,
Script: Jordi Esteva, Germán Piffano, DoP: Albert Serradó,
Editor: Xavi Pérez, Francesc Esteva, Leo Castro, Sound: Jordi Tresserras, Music: no original music
Jordi Esteva was born in Barcelona in 1951. Today he is a photographer and filmmaker specialising in documentary. His life in Cairo and other African cities, where he spent many years, has been a major inspiration for his work.
BLOCK 5
Monday, 11. October, 18pm
Arada - Verbannt in eine fremde Heimat / Arada - Living in Between /
Switzerland / 2020 / Documentary / 83 min
OT Turkish / UT German
The Turkish word arada means 'in between'. This is a story of three men and their struggle for a place in society. They grew up in Switzerland without having been granted Swiss citizenship because their parents were immigrants. After breaking the law, they were expelled to Turkey, which to them is a foreign country. Although they try hard to reestablish old family ties, in the end they will have to start all over and cope with their new lives.
Director: Jonas Schaffter, Producer: Frank Matter, soap factory GmbH /Ko-Produzentin: Sabine Gisiger, ZHdK,
Script: Jonas Schaffter, DoP: Simon Denzler,
Editor: Roland von Tessin, Selin Dettwiler, Sound: Jonas Schaffter, Music: Thomas Jeker
Jonas Schaffter was born in Metzerlen, Switzerland, in 1988. He studied Visual Communication at Basel University of Applied Sciences and Arts from 2009 to 2013 and photography at Mimar Sinan University, Istanbul, from 2011 to 2012. He then worked on documentaries and short film projects for point de vue in Basel. In 2020, he completed a master's course in documentary film at Zurich University of Arts. 'Arada' is his first full-length film.
BLOCK 8
Tuesday, 12. October, 20pm
Camagroga /
Spain / 2020 / Documentary / 111 min
OT Spanish / UT English
Like all the other farmers on the outskirts of Valencia, Antonio Ramon and his daughter Inma water their land following a more than 800-year-old collective tradition. The recurring cycle of cultivating, irrigating and processing tiger nuts has shaped a distinct community whose way of life is in danger from a planned road extension. What can they do against urban traffic threatening to eat up their land?
Director: Alfonso Amador, Producer: Xavier Crespo,
Script: Alfonso Amador, Sergi Dies, DoP: Alfonso Amador,
Editor: Sergie Dies, Sound: Jorge Salvá, José Serrador, Music: varios artists
Alfonso Amador was born in Madrid and works as a director, dramaturg and author in Spain. Since 2002, he has been co-working on various documentaries and short films, which he presented, amongst others, at the '9.8 m/s2' Official Selection of the Cannes Film Festival. In 2016, he won the Julio Alejandro Scriptwriting Prize (SGAE).
BLOCK 9
Wednesday, 13. October, 18pm
Sicherheit123 / Safety123 /
Austria, Italia / 2019 / Documentary / 72 min
OT German / UT English
Life in the mountains can be dangerous. Like a collage, this film documents numerous endeavours to contain health and life dangers along the main crest of the Alps. The efforts of planners, scientists, technicians and emergency services and the technical manifestations of human striving for safety are contrasted with the gorgeous alpine landscape. A study on the relationship between nature and culture.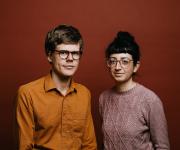 Director: Julia Gutweniger & Florian Kofler, Producer: Julia Gutweniger & Florian Kofler,
Script: Julia Gutweniger & Florian Kofler, DoP: Julia Gutweniger,
Editor: Julia Gutweniger & Florian Kofler, Sound: Florian Kofler, Music: Edgars Rubenis
Julia Gutweniger was born in Meran, Italy, in 1988. She studied Painting and Drawing at Kunstuniversität Linz in Austria from 2007-15. Florian Kofler was born in the same city in 1986. He studied Tome-based media at Kunstuniversität Linz from 2007-18. Both have worked together and made films under the name of VILLA MONDEO since 2011.
BLOCK 11
Thursday, 14. October, 18pm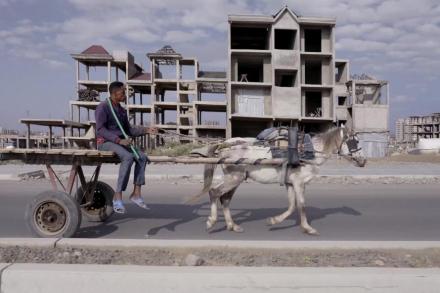 Rift Finfinnee /
Germany, Äthiopien / 2021 / Documentary / 79 min
OT Amharic / UT German
While the Ethiopian capital of Addis Ababa (Finfinnee in the local language) is growing, it consumes its rural periphery, the arable land around and even the bedrock, which is manually made into bricks for the new city. The film, intertwining authentic conversation with visual surveys, shows the daily lives of people on both sides in their daily and sometimes desparate struggles for survival, from traditional agricultural work and the clanship-based allocation of new jobs in the city to unregulated and invisible investors who draw profits in the background. A collage on the metabolism of urban agglomerations and the people living there.
Director: Daniel Kötter, Producer: Meike Martens,
Script: Daniel Kötter, DoP: Daniel Kötter,
Editor: Daniel Kötter, Sound: Marcin Lenarczyk, Music: Getatchew Merkuria
Daniel Kötter is a filmmaker and music theatre director working on an international scale. His main works include the music theatre trilogies Falsche Arbeit, Falsche Freizeit, Freizeitspektakel (2008-10), KREDIT RECHT LIEBE (2013-16) and STADT LAND FLUSS (2017-19, all produced together with Hannes Seidl), the multi-channel trilogy 'Arbeit und Freizeit' (2009-11) and the 'state theatre' film, performance and discussion series, which deals with the circumstances of performing and has been presented in Lagos, Teheran, Berlin, Detroit, Beirut and Mönchengladbach (2009-14, with Constanze Fischbeck). At the moment, he is working on a series of spatial performances and 360° films entitled 'landscapes and bodies', which deals with the impact of extractivism on landscapes and societies in Germany, Western Papua, The Democratic Republic of Congo and Estonia.
BLOCK 12
Thursday, 14. October, 20pm
Stollen /
Germany / 2021 / Documentary / 75 min
OT German / UT -
Pöhla is a village in the Erzgebirge mountains where miners' rituals are kept alive. Because the closure of the last mine 30 years ago not only brought an end to health-damaging practices but also deprived people of their traditional working and cultural lives. The region, sometimes called 'Weihnachtsland' (Christmas Land), is trying to reconcile long-grown Christmas traditions with economic perspectives. And while mining in the Erzgebirge is on its way to becoming an official world heritage item, fresh investors are planning to quarry for tin and tungsten. The film shows local people as protagonists of their own upheavals.
Director: Laura Reichwald, Producer: Jürgen Kleinig (Neue Celluloid Fabrik), Marcelo Busse (Busse), Stephan Bernardes (Filmuniversität Babelsberg Konrad Wolf),
Script: Laura Reichwald, Stephan Bernardes, Georg Kußmann, DoP: Janine Pätzold,
Editor: Gal Yaron Mayersohn, Sound: Elisabeth Sommer, Daniel Scheer, Music: G
Laura Reichwald was born in Halle (Saale) in 1988. She studied Media Technology and Visual Arts in Hamburg with a focus on film and digital cinema. The documentary 'Stollen' was her graduation film at Konrad Wolf Film University Babelsberg, where she completed a master's programme in film direction specialising in documentary. She has been working as a freelance author, director and artist since 2012.
BLOCK 14
Friday, 15. October, 20pm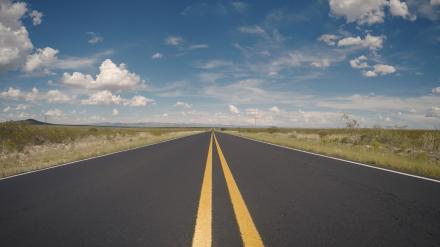 Truth or Consequences / / Wahrheit oder Pflicht
United States, New York / 2020 / Documentary / 103 min
OT English / UT -
Truth or Consequences is a small town in the desert of New Mexico which hosts the first private space launch facility in the US. The film deploys a special form of storytelling by combining interviews, nature observation and historical documents and examining the fates that led its protagonists to this remote scenery. By doing so, it creates a portrait of the place which appears as a mycelium of remains from the past and stubborn perseverance.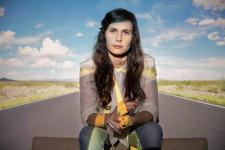 Director: Hannah Jayanti, Producer: Hannah Jayanti, Sara Archambault,
Script: Hannah Jayanti, DoP: Hannah Jayanti,
Editor: Hannah Jayanti, Sound: Hannah Jayanti, Music: Bill Frisell
Hannah Jayanti is a filmmaker, trainer and teacher in the fields of film direction, production, authoring and sound design. Her films have won her numerous awards and supporters, and her work eventually brought her to the city of Truth or Consequences as an artist in residence to create her eponymous documentary.