BLOCK 1 / Eröffnungsabend
Saturday, 8. October, 18pm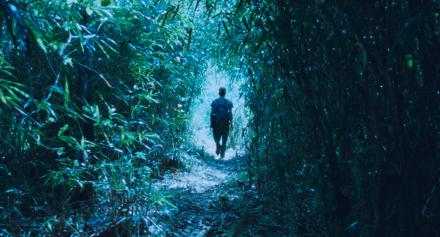 Pa Va Hêng, The Dust Of Modern Life /
Germany, Frankreich, Vietnam / 2021 / Documentary / 82 min
OT Vietnamese / UT German
Liêm is a father who cooks and carries his son on his back when doing chores, and he is a farmer who threshes the harvest in bundles by hand. He lives with his wife and two sons in a small village on the edge of the jungle. They belong to the Sedan, an ethnic minority. After the village festival, the young men go into the wilderness for a few days once a year to live on what they have gathered and hunted. But modern life is also making its way here: Omnipresent loudspeaker announcements tell the 400 or so villagers alternately about the historical achievements of the resistance against the imperialist occupiers, about the world-leading sales success of the Zara shops in Hanoi or about the advantages of a new dishwashing liquid. The ritual retreat into the jungle is recorded by mobile phone and people sleep under construction tarpaulins. After days of hiking, setting traps, eating together by the fire and surfing the internet in their sleeping bags, they head back home, merrily singing political songs. A film about the importance of concrete life practice in the struggle for identity.
Director: Franziska von Stenglin, Producer: Franziska von Stenglin,
Script: Franziska von Stenglin, DoP: Lucie Baudinaud,
Editor: Zuniel Kim, Marylou Vergez, Sound: Christian Wittmoser, Music: Thomas Höhl
Franziska von Stenglin, born in Munich in 1984, grew up in the Czech Republic, in Senegal, India and Germany. She studied photography in London and art at the Städelschule in Frankfurt/Main. In 2016 she made her first short film "I'm A Stranger Here Myself". "Pa Va Hêng" is her first full-length film. It hat its German premiere in October 2021 at DOKfest Leipzig.
BLOCK 4
Sunday, 9. October, 20pm
Yonaguni /
France / 2021 / Documentary / 77 min
OT Japanese / UT English
Naho, Genki, Mau, Mimi and Ichika live in Yonaguni, a Japanese island that lies like a rock in the sea just a hundred kilometres from Taiwan. They are fifteen years old and live safely and well educated with their families. Nevertheless, they will leave the island in a few months. In this phase of transition, not only do expectations of their own lives come into focus, but also the fate of their rural community with its peculiar language and tense relationship with the dominant mainland Japanese culture. An exemplary film about the disappearance of provincial individuality.
Director: Anush Hamzehian and Vittorio Mortarotti, Producer: Fabrizio Polpettini,
Script: Anush Hamzehian and Vittorio Mortarotti, DoP: Anush Hamzehian and Vittorio Mortarotti,
Editor: Gabriel Gonzalez, Sound: Anush Hamzehian and Vittorio Mortarotti, Music: None
Anush Hamzehian and Vittorio Mortarotti have been working together on projects involving political refugees, former miners, prostitutes, tsunami survivors and war veterans. Their video-photographic installations investigate the dynamics of memory and how history interferes with private fates. They have also published art books and made documentary films. In 2018 they released "Monsieur Kubota", a film about the search for immortality.
BLOCK 5
Monday, 10. October, 18pm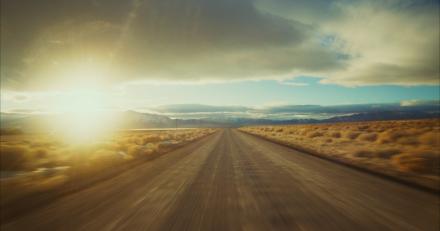 The Great Basin /
United States / 2021 / Documentary / 91 min
OT English / UT English
The film creates an intricate panorama of rural Nevada along 'America's loneliest road'. Here in the province, the mechanisms of global economy and politics have a direct impact on people's lives. We are shown how local self-government can be a painstaking process, how Native Americans still live here under dramatic circumstances, how towns are deprived of water and how people try to live ordinary lives between livestock farming, the gaming industry, prostitution, religiosity and practised death penalty.
Director: Chivas DeVinck, Producer: Chivas DeVinck,
Script: Chivas DeVinck, DoP: Yoshio Kitagawa,
Editor: Matthieu Laclau & Yann-Shan Tsai, Sound: Danfeng Li, Music: Felicia Atkinson
Chivas DeVinck, director and producer, lives in New York. His feature film debut was "The Poets", released in 2018. His works have been screened at international festivals, including South by Southwest (Austin, US), International Filmfestival Mannheim-Heidelberg (Mannheim, DE), Encounters South African International Documentary Festival (Cape Town, ZA) and the Pan African Film Festival (Los Angeles, US).
BLOCK 6
Monday, 10. October, 20pm
Barataria /
Spain, France / 2021 / Documentary / 49 min
OT Spanish / UT English
Valdeluz, a planned city in Spain, is a failed real-estate investment project. Alien to its surroundings, it parts the landscape abruptly, completely disconnected from the local metabolism, unfinished, fragmented and questionable. Still it is home to ordinary people who try to master their everyday lives here. The film showcases the fundamental structure of modern life -- its economic and ecological detachment from the landscape -- in a very tangible way. Can there be a right life in the wrong one?
Director: Julie N. Van Qui, Producer: Jean Marie Gigon,
Script: Julie N. Van Qui, DoP: Julie N. Van Qui,
Editor: Rodolphe Molla, Sound: Christelle Granja, Music: Romain Ozanne
After a career in applied arts and anthropology between France and Spain, Julie Nguyen Van Qui is now moving towards the direction and production of documentary films. Since 2013, she has supported the writing of film projects with The Kingdom and then SaNoSi Productions. "Barataria" won the Best Short Film Award at the 2021 Sheffield DocFest.
BLOCK 8
Tuesday, 11. October, 20pm
Auf eine Tasse Kaffee mit der Stasi / At the coffe table with the Stasi /
Germany / 2021 / Documentary / 82 min
OT German / UT -
30 years after the 1989 Peaceful Revolution, young people from Frankfurt (Oder) set out to investigate what it was like. The people they interview today were adversaries back then. While one of them typed his fingers down to the bone for the Stasi security service, the other one remembers rallying in front of Stasi's telephone operator building and singing »So ein schöner Tag wie heute« (On a Day as Beautiful as Today). Another one sat down at the coffee table with the local Stasi director in Frankfurt to negotiate access to the records while files were being destroyed by the thousands. On their journey back into history, the young people come across the question how it all could turn out so peacefully in the end. A film about successful dialogue, retrospection and the open question what one can learn from those experiences for today.
Director: Johanna Pohland, Producer: Bürgerbühne Kleist Forum,
Script: Gudrun Herrbold & Johanna Pohland, DoP: Johanna Pohland,
Editor: Johanna Pohland, Sound: Johanna Pohland, Music: Divers
Johanna Pohland works as a freelance documentary filmmaker, media educator and social justice trainer. Since 2006 she has been involved in theatre film productions such as Michael Thalheimer's production "Die Ratten" at Deutsches Theater in Berlin. In 2010 she started exhibiting her own graphic art works in the international Kunsthaus Tacheles in Berlin. At the moment, she is working on a film project on transformation processes in Frankfurt (Oder) after the German Peaceful Revolution.
BLOCK 9
Wednesday, 12. October, 18pm
Veins of the Amazon /
Peru / 2021 / Documentary / 71 min
OT Spanish / UT English
In the north-east of Peru, long stretches of the Amazon River wind through the jungle, connecting towns and villages which are not accessible by road. As air transport is expensive, for many people the Amazon is their only link to the outside world. Multi-storey ferries shuttle between towns and remote settlements, carrying travellers and their goods. They bring the supplies needed for living to old and newly-built villages, and their crews operate under harsh and sometimes hazardous conditions. Wherever they appear, they are eagerly awaited. A film on how human life depends on means of transport, supplies and muscle power.
Director: Álvaro Sarmiento, Terje Toomistu, Diego Sarmiento, Producer: Álvaro Sarmiento, Diego Sarmiento,
Script: Álvaro Sarmiento, DoP: Terje Toomistu, Diego Sarmiento,
Editor: Fabricio Deza, Álvaro Sarmiento, Diego Sarmiento, Sound: Cesar Centeno, Music: *
Terje Toomistu is an anthropologist and documentary filmmaker from Estonia, currently employed as a Research Fellow at the University of Tartu. Her most recent film was the award-winning "Soviet Hippies" (2017). She is now embarking on a new project about the young Estonian diaspora, specifically in relation to higher-education mobility and digital nomadism. Alvaro and Diego Sarmiento are two Peruvian filmmaker brothers. Their debut feature film, "Green River. The Time of the Yakurunas" premiered at the 67th Berlin Film Festival in 2017. Diego directed several short films, two of which were screened at Berlinale. Alvaro is a visual artist and screenwriter.
BLOCK 10
Wednesday, 12. October, 20pm
Vida Férrea / Steel Life /
Peru, Spain / 2022 / Documentary / 95 min
OT Spanish / UT English
High up in the Peruvian Andes, iron ore is mined and transported by rail all the way down to the freighters waiting in the Pacific. Life up there is hard and full of deprivation. The settlement is at an altitude of almost 4,400 m, and anyone working there has to leave it before their 60th birthday lest they die of blood thickening. The dust released from the wagons and dispersed by the wind contains high levels of lead, which enters the blood of pregnant women and children. The film impressively traces the path of the ore and the consequences of the work and gives various people along the route the opportunity to talk about themselves, their lives and their perspective on things.
Director: Manuel Bauer, Producer: Carlos Cárdena / Alejandro Lázaro / Sandra Yépez/ Manuel Bauer,
Script: Manuel Bauer, DoP: José Luis Salomón,
Editor: Clara M. Malagelada / Manuel Bauer, Sound: David Romero/ Ismael Calvo / David Mantecón, Music: None
Manuel Bauer was born in Lima, Peru, in 1974. He graduated in Communication Sciences from Lima University in 1997. Later he won a Fulbright scholarship to pursue an MA in Film at New School University, in New York, from 1998 to 2000, where he studied with Allan Berliner and discovered documentary from a new perspective. That year he moved to Madrid, Spain, and started working on feature documentaries and fiction films. "Vida Ferrea" is the first feature film he has directed himself.
BLOCK 11
Thursday, 13. October, 18pm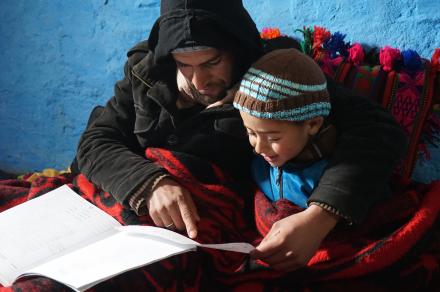 Toiveiden koulu / School of Hope / Schule der Hoffnung
Finland, France, Morocco / 2020 / Documentary / 78 min
OT Arabic / UT English
Shepherds live in the vast expanses of desert east of the Moroccan Atlas Mountains. With droughts prevailing for years, life is barren and hard. Many families have already emigrated. In order to improve their children's prospects, the remaining families have built a school ‒ without electricity or running water. With the arrival of the new teacher, the remaining children get an opportunity to learn. Even though they are exhausted and tired after walking miles to school, he manages to motivate them with the prospect of earning themselves a better life through learning. Still, he is met with resistance because not all parents accept that they will be losing cheap labourers in the process. In addition, the last water source in the area is drying up. For three years, the film team have followed the development of students and parents and traced the hopes and problems of the people whose livelihoods are threatened by drought.
Director: Mohamed El Aboudi, Producer: Pertti Veijalainen/Illume, Lamia Chraibi, La Prod / Hind Saïh, Bellota Films / Dominique Barneaud, Bellota Films / Aimee Link, Vulcan Productions,
Script: Mohamed El Aboudi, DoP: Hannu-Pekka Vitikainen / Marita Hällfors / Päivi Kettunen,
Editor: Lizi Gelber / Florence Bresson / Mohamed El Aboudi / Mikko Sippola, Sound: Pietari Koskinen / Kirsi Korhonen, SoundeFilm, Music: Richard Horowitz & Andrew Silagy
Mohamed El Aboudi was born in Morocco in 1961 and graduated from Bond University, Australia with an MA in Film and Television. He currently resides in Finland, where he was awarded a prize as best and most experienced documentary director by the Finnish Broadcasting Company YLE in 2006. His long documentary "Dance of Outlaws" had its world premiere at Locarno International Film Festival, where it received the prize Premio Zonta Club Locarno, with several other prizes to follow. He has also directed more than 30 short TV documentaries.
BLOCK 14
Friday, 14. October, 20pm
La Conquista de las Ruinas / Conquest of the ruins / Die Eroberung der Ruinen
Argentina, Bolivia / 2020 / Documentary / 88 min
OT Spanish / UT English
The rapid growth of new megacities is tantamount to the destruction of the earth's surface. As the soil is sealed, traces and relics of past ages disappear. But for many young people, life depends on the wages they earn on the building sites. As the film accompanies workers in Capinota, Bolivia, it offers different perspectives on the dynamics of urbanisation and a meditation on the use of concrete in history, on mining, gated communities, archeology and paleontology, the vanishing of earth-related knowledge and the scope of things one can expect from a short human life.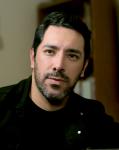 Director: Eduardo Gómez, Producer: Pensilvania Films, Rodante Films,
Script: Eduardo Gómez, DoP: Eduardo Gómez,
Editor: Damián Tetelbaum, Sound: Joaquín Rajadel, Music: Nicolás Deluca
Eduardo Gómez, born in 1986, is a producer and scriptwriter from Bolivia. Until 2007, he studied filmmaking in La Fábrica, Escuela Internacional de Cine. He also has a degree in Social Communications. In 2014 he co-wrote and produced the documentary "Quinuera" by Ariel Soto. "La Conquista de las Ruinas" is his first documentary film.