BLOCK 2
Saturday, 8. October, 20pm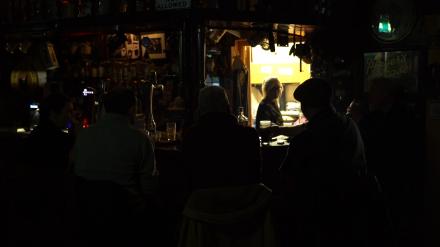 Ann's Pub / / Anns Kneipe
Switzerland / 2021 / Documentary / 25 min
OT English / UT German
A journey into the universe of an Irish pub. Our opener in the Short Documentary competition takes us into the small town of Athlone, right in the heart of the Irish island, where Ann Flannery runs a pub that bears her name. It is not just a workplace to her, for she lives right behind the bar. We can literally taste the dark beer and whiskey and smell the smoke, and on top of that, we get marvellous folk music. A haven for guests and landlady and a film that was made for our opening night.
Director: Thabea Furrer, Producer: Frank Matter,
Script: Thabea Furrer, DoP: Thabea Furrer,
Editor: Thaïs Odermatt, Sound: Thabea Furrer, Music: -
Thabea Furrer was born in Lucerne in 1989. During her childhood she lived in Brazil for three years and in South Africa for one year. In 2012 she attended a preliminary design course with a focus on cinema at ECAL (Lausanne) and completed her film studies with a major in directing at Lucerne University of Applied Sciences and Arts (HSLU) in 2016. Since then she has been a freelance filmmaker.
BLOCK 3
Sunday, 9. October, 18pm
Murmur /
Austria / 2021 / Documentary / 9 min
OT ohne Di / UT German
"Murmur" portrays rural and urban backgrounds in an experimental way and describes humans and animals acting in different soundscapes. Accompanied by an essayistic text, without a spoken word, the filmmaker reports from a personal point of view and presents scientific approaches to noise and silence.
Director: Katharina Pichler, Producer: Katharina Pichler,
Script: Katharina Pichler, DoP: Harry Kemp,
Editor: Katharina Pichler, Sound: Katharina Pichler, Music: -
Katharina Pichler, born in 1995, is a sound designer and filmmaker currently based in Graz (AT). After first studying at Art University in Linz, she continued at University of Applied Sciences and University of Music and Performing Arts Graz, where she received a Master's degree. In her work she explores an observational and direct way of filmmaking.
BLOCK 3
Sunday, 9. October, 18pm
Huan Xu / The Mountains Sing / Die Berge singen
China / 2021 / Documentary / 39 min
OT Chinese / UT English
The film brings us closer to the traditional songs of the Zhuang people of south-east China. It takes us to traditional gatherings under old village trees and around the clans' temples deep in the mountains, where singers arrive in droves. In the antiphonal singing style typical of Zhuang folk songs, men and women are divided into small groups and improvise the lyrics, almost all of which are about love. But urbanisation threatens those long-established singing rituals. The insight we get into this foreign culture and the quiet observation of everyday situations create lasting and memorable images.
Director: Xiao Yang, Producer: Xiao Yang,
Script: Xiao Yang, DoP: Xiao Yang,
Editor: Xiao Yang, Sound: Sisi Chen, Music: Yunqing Xie
Yang Xiao was born in Guilin, Guangxi, in 1989. He graduated from Shanghai University and now lives in Shanghai. His past works include "The Suspended Step" (2013), "Dancing Together" (2015) and "Chronicles of Durian" (2017).
BLOCK 6
Monday, 10. October, 20pm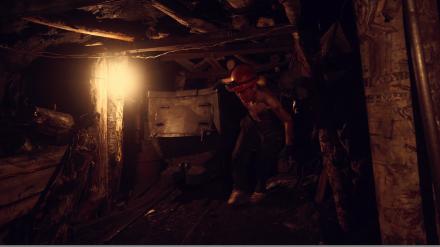 Black Wagon / / Kohlewagen
Kyrgyzstan / 2021 / Documentary / 23 min
OT Kyrgyz / UT English
There are more than 300 coal mines around the town of Sülüktü in Kyrgyzstan. 500 metres below the surface, light and air are scarce, and the coal beds grow thinner, too. We meet a group of miners who share labour and thoughts in their confined and unsafe underground workplace. Physical exertion and breaks alternate. In order to achieve the daily target, one must be both prudent and willing to take risks.
Director: Adilet Karzhoev, Producer: Adilet Karzhoev,
Script: Adilet Karzhoev, DoP: Karash Zhanyshov,
Editor: Adilet Karzhoev, Sound: Alym Tursunbayev, Music: -
Adilet Karzhoev was born in Kyrgyzstan in 1988. In 2011, he graduated from the Kyrgyz-Turkish University of Manas (department of Radio, TV and Cinema). In 2019, he received a Master's degree in journalism from American University in Central Asia. He has directed several documentary films.
BLOCK 7
Tuesday, 11. October, 18pm
A Tradicional Familia Brasileira Katu / / Die traditionelle brasilianische Katu-Familie
Brazil, BRASIL / 2022 / Documentary / 25 min
OT Portuguese / UT English
This film is based on children's portraits from a photographic essay shot in the extreme north-east of Brazil. The children pictured back in 2007 are now young adults who tell us about their personal careers and their world views and give us an insight into their indigenous world. Filmmaker Rodrigo Sena explains of his film: 'This film facilitates a discourse giving voice to the resistance of an oppressed people who have suffered various forms of violence and who are still resisting the constant threat of both agribusiness and evangelisation efforts in the village.´
Director: Rodrigo Sena, Producer: Arlindo Bezerra,
Script: Rodrigo Sena, DoP: julio castro,
Editor: Rodrigo Fernandes, Sound: Jota arciano, Music: Tiquinha Rodrigues e Tony Gregorio
Rodrigo Sena was a photojournalist for ten years and participated in various Artist Residency programmes before he became a director. His film "A Tradicional Familia Brasileira Katu" is part of a three-episode series named "Encantarias" and screened on CineBrasilTV in 2021, which also comprised the films "Yabá" and "Urubá".
BLOCK 9
Wednesday, 12. October, 18pm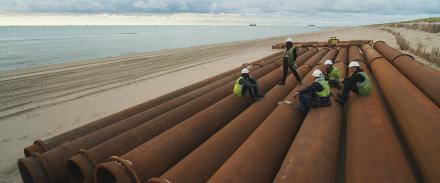 You Can't Automate Me / / Nicht automatisierbar
Netherlands, Slovenia / 2021 / Documentary / 20 min
OT Dutch / UT English
Rotterdam is one of the largest container ports in the world. Computers control the processes that load and unload ship after ship. A dance of cranes, autonomous vehicles, steel cables and pulleys. A few intrepid men whom engineering hasn't managed to replace yet work to secure the containers. With sensual choreography and aesthetic detail shots, this film helps us remain aware of our own humanity in a technological world.
Director: Katarina Jazbec, Producer: TENT Film,
Script: Katarina Jazbec, DoP: Matija Pekić,
Editor: Jesse Immanuel Bom, Katarina Jazbec, Sound: Jorick Bronius, Music: Giliam Spliethoff, Jorick Bronius
Katarina Jazbec works in film and photography. She was born Slovenia in 1991 and has been living in Rotterdam since 2015. She received a BA from the Faculty of Economics in Ljubljana and a Master's degree in Photography from St. Joost Art Academy in Breda (NL). In her work, which is based on her own research, she builds heterotopias and looks for new forms of storytelling while exploring the urgent questions of ethics, identity, agency, and pitfalls of our current dominant economy.
BLOCK 13
Thursday, 13. October, 22pm
همسایه من,مرگ / My Neighbour, Death / Mein Nachbar, der Tod
Iran / 2021 / Documentary / 23 min
OT Persian / UT -
Pickaxe and shovel are Baqer Karimpour's tools. He is a gravedigger and lives with his family in a house between a cemetery and the constant gurgle of a river. Through unpretentiously captured scenes from daily life and very direct questions, director Radvin Khodadadi gives us a deep insight into the life of this family. Although all its members appear somewhat aloof, he has managed to create a sympathetic portrait. "They don't scare me, they're all asleep," says the daughter. Dreams, hopes and misfortune are related with a serenity that seems to be unique to people who constantly face death.
Director: Radvin Khodadadi, Producer: Radvin Khodadadi,
Script: Radvin Khodadadi, DoP: Radvin Khodadadi,
Editor: Babak Heydari-Ehsan Amini Milani, Sound: Radvin Khodadadi, Music: Mohammad Fereshte-Nejad
Radvin Khodadadi was born in 1982 in Iran. This is his second documentary. His first work was a documentary called "Our First Child", which was presented at the Cannes and Fajr festivals. His work has also been screened at the Tehran Short Film Festival and won an award at the Hong Kong Film Festival. -
BLOCK 13
Thursday, 13. October, 22pm
Fati's Choice / / Fatis Entscheidung
Ghana, South Africa / 2021 / Documentary / 42 min
OT English / UT English
After Fati's adventurous and dangerous journey from her hometown in Ghana through the desert and across the Mediterranean to Italy, she returned home after six months. She found that she was not welcome in Europe and had no opportunity for a dignified life. But even after her return, she is not welcomed with open arms. Relatives and acquaintances do not want to understand why it should not be worth living in Europe. In two years of work, the Ghanaian director Fatima Dadzie, with the support of the South African non-profit organisation 'STePS', accompanied Fati and thus provided a perspective on the topic of migration that is unusual for European perception.
Director: Fatimah Dadzie, Producer: Don Edkins, Tiny Mungwe, Hamid Yakub,
Script: /, DoP: /,
Editor: /, Sound: /, Music: /
For over a decade, Fatimah Dadzie has used her expertise and skills in film production to capture and tell compelling stories about ordinary people. She studied at the National Film and Television Institute (NAFTI) of Ghana and at University of Leicester in the United Kingdom and initially worked in advertising and television production. In "Fati's Choice", her debut as a director, she draws attention to the fate of African migrants who chose to return home after finding disappointment in Europe.
BLOCK 15
Friday, 14. October, 20pm
1 Kilo - 3 Euro /
Germany / 2022 / Documentary / 16 min
OT Georgian / UT German
A basement in Berlin – a narrow gateway to the Georgian homeland. People bring their parcels, corded and wrapped up umpteen times, secured with layers of stretch film against all that could happen to them. They contain necessary and handy items sent back to the people's families far away with loving greetings. Maka's basement is a parcel shop and a meeting place, "...a little Georgia to soothe nostalgia."
Director: Ani Mrelashvili, Producer: Filmuniversität Babelsberg Konrad Wolf,
Script: Ani Mrelashvili, DoP: Jonathan Junge,
Editor: Fionn George, Sound: Johann Plato, Music: -
Ani Mrelashvili was born in Tbilisi, Georgia, in 1995 and grew up there beforer coming to Germany at the age of 18 to study literature at FU Berlin. At that time, she also worked on film sets and started her first short film projects. Since 2020, she has been studying film direction at Konrad Wolf Film University Babelsberg.
BLOCK 16
Friday, 14. October, 22pm
Martin Trautmann /
Germany, - / 2022 / Documentary / 7 min
OT ohne Di / UT -
The film portrays a young shoemaker in his small workshop who makes bespoke leather shoes, carrying on the family tradition. Through accurate images, without speaking, he lets us participate in the process of manufacturing handmade shoes ‒ step by step and in great detail. A film about the wonderful creative power of craftsmanship.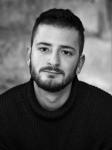 Director: Frederik Seeberger, Producer: Hochschule für Fernsehen und Film München,
Script: Frederik Seeberger, DoP: Frederik Seeberger,
Editor: Frederik Seeberger, Sound: Paula Tschira, Music: -
Frederik Seeberger was born in Heppstädt in 1998. In 2017 and 2018 he contributed to several small film projects in the areas of camera, lighting and post-production. He has been studying camera at the HFF Munich since 2018 and has been working as a photographer on short documentaries and feature films as well as music videos. In "Martin Trautmann" he directs for the first time.
BLOCK 16
Friday, 14. October, 22pm
Symphony of the Knots / / Sinfonie der Knoten
Iran / 2022 / Documentary / 10 min
OT Persian / UT -
A symphony draws its beauty from the harmonious interaction of very different instruments. In this film, the harmony is between the various steps of making a world-famous product. The film's conceptual sound design creates a poetic aural background that lets us forget for a moment about the workday grind.
Director: Hossein Ranjbar Shirazi, Producer: Hossein Ranjbar Shirazi,
Script: Hossein Ranjbar Shirazi, DoP: Jalal Rahimi,
Editor: Mohammad Ghaemi, Sound: Reza Nohe Khan, Music: Bamdad Afshar
Hossein Ranjbar Shirazi is a director and stage designer with more than 15 years of experience in television and theatre film projects.