BLOCK 1 / Eröffnungsabend I
Saturday, 14. October, 18pm
夏至前天 / A Bright Sunny Day / Ein heller, sonniger Tag
United States, China / 2023 / Short Film / 20 min
OT Chinese / UT German
What happened to the water buffalo? It has disappeared along with the daily lives of people in a rural Chinese province who have to make way for an eco-holiday village. Tourists from the city are rushing to the countryside, while many of the locals have to move away in search for a job. A stern, almost sluggish narrative style and fixed camera settings make this film immune to improper outbursts of commiseration. Things are what they are.
Director: Yupeng He, Producer: Lam Can-zhao,
Script: Lam Can-zhao,Yupeng He, DoP: Pan Wenhua,
Editor: Lam Can-zhao, Sound: Lai Wenhua, Music: n/a
Yupeng He was born in Guangzhou, China in 1995. He graduated with a BA from University of California, Irvine. After his undergraduate degree, he decided to go to the Columbia University School of the Arts to continue exploring his film journey. In 2023, his short film "A Bright Sunny Day" was selected for LA CINEF at the 76th Cannes Film Festival.
BLOCK 4
Sunday, 15. October, 20pm
Płot / The Fence / Der Zaun
Poland / 2022 / Short Film / 19 min
OT Polish / UT German
Two men in love with each other run an equestrian farm in a Polish village, set off and protected from their hostile neighbours by a shaky old fence. The film uses blurred and misty shots to mimic the villagers' distrustful surveillance, but its soundtrack is all the more accurate: along with precisely captured small gestures, it tells a story of invading threats and the liberation of escaping.
Director: Tomasz Wolski, Producer: Anna Gawlita,
Script: Anna Gawlita, Tomasz Wolski, DoP: Tomasz Wolski,
Editor: Tomasz Wolski, Sound: Enrico Zavatta/Mana Jam, Music: no
Tomasz Wolski is a scriptwriter and documentary filmmaker born in 1977. He is a graduate of Journalism at the Jagiellonian University and the Andrzej Wajda Master School of Film Directing. Aside from directing his own films Tomasz also worked as a director's assistant to Jacek Bławut on Born Dead (2004).
BLOCK 4
Sunday, 15. October, 20pm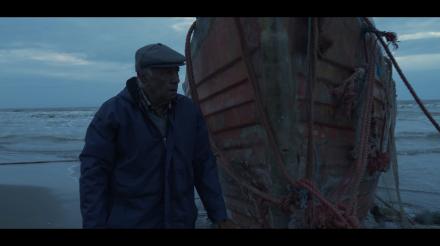 Sayad / Fisherman / Der Fischer
Iran, Iran / 2023 / Short Film / 11 min
OT Persian / UT German
Whose coat is this? An old man, obviously a retired fisherman, picks up the soaked garment from the tide. In its pocket, he finds a telephone number and calls it. Then the story takes an unexpected turn, and so does the sequence-shot film as a whole.
Director: Mahdi Zamanpour Kiasari / Manan Janbarari, Producer: Mahdi Zamanpour Kiasari, Mannan Janberari,
Script: Mannan Janberari, DoP: Davood Rahmani,
Editor: Mahyar Yavar, Sound: Norollah Savadkouhi, Mahyar Yavar, Music: Arash Ghasemi
Mehdi Zamanpour Kiasri is an Iranian writer and director who was born in 1975. He has a master's degree in film directing and as a writer and independent documentary filmmaker during the past 20 years of TV and cinema experience he has made more than 10 outstanding short and feature documentary films, including "Mashti Esmaeil". So far, he has participated in more than 100 international film festivals.
BLOCK 8
Tuesday, 17. October, 20pm

Май нулевого / May 2000 / Mai 2000
Russian Federation / 2023 / Short Film / 18 min
OT Russian / UT German
It's the old story of staying versus going. Two teenagers fall in love and dream of leaving for pastures new. Will they manage to shed their other emotions and obligations? The succinct but poetic language of the film hints at the forces they have to bear up against.
Director: Kirill Sultanov, Producer: Andrey Zharskiy, Svetlana Berezova,
Script: Kirill Sultanov, DoP: Dmitriy Zorin,
Editor: Alexandr Chekunov, Sound: Anna Glivinskaya, Alexey Florinskiy, Music: Ekaterina Vladimirskaya
Kirill Sultanov was born in 1997 in Tyumen. In 2022, he graduated from the Moscow Film School with a degree in Directing managed by Alexei Popogrebski (The Golden Bear nominee) and Pavel Bardin. His previous student films "Ishim" and "Gasp" participated in and were awarded at numerous film festivals. He is currently working on the script for his debut full-length film.
BLOCK 8
Tuesday, 17. October, 20pm
Scheißwetter / Piss-Poor Weather /
Germany / 2023 / Short Film / 17 min
OT German / UT German
Being tight or being nice - what's the difference? It makes one in this grotesque and funny film. Tobi, who fled from his notoriously rainy village to sunlit southern beaches, has turned tight. The village where his friend Lotte and his band are waiting in the rain may be nice but doesn't make him happy. He wants more, but Lotte decides to stay put.
Director: Jens Kevin Georg, Producer: Luis Morat, Jelena Bohnet,
Script: Jens Kevin Georg, DoP: Lena Renée Krenz,
Editor: Andreas Schumacher, Sound: Alexander Wolf, Music: Felix Römer
Born in 1994. Had to witness Germany being kicked out of the football world championship. 2009: lost his pitch as a goalkeeper due to poor eyesight, small hands and a broken heart. 2013-17: put on 20 kg during his media production studies and lost ten while producing his graduate film. 2018-now: film direction studies at Babelsberg Film University. Weight still unstable.
BLOCK 8
Tuesday, 17. October, 20pm
Rien d'important / Working Class / Nichts Besonderes
France / 2022 / Short Film / 19 min
OT French / UT German
A sympathetic portrait of two young women of the province. One has left for the city to take up studies, the other stayed without a clear perspective. When they meet again, they are both envious and supportive of each other. A light-spirited ballad about leaving and setting out for new destinations.
Director: François Robic, Producer: Clémence Crépin Neel & Igor Courtecuisse,
Script: François Robic, DoP: Pauline Doméjean,
Editor: Clara Saunier, Sound: Sacha Mikoff, Noëmy Oraison, Music: -
François Robic was born in 1995. After completing a Bachelor's degree in Literature, François studied Arts at the Duperré school, then entered the Production Design department of La Fémis, graduating in 2020. Meanwhile, he studies Design at the ENS Paris. He's currently doing a PhD in film studies at La Fémis. He wrote and directed 3 short fiction films and one documentary, selected in many festivals.
BLOCK 9
Wednesday, 18. October, 18pm
Matter Sommer / In the Rough /
Lithuania, Deutschland / 2023 / Short Film / 18 min
OT Lithuanian / UT German
A boy, on a holiday in Lithuania with his Lithuanian mother and his German father, begins to explore his surroundings - curiously and searching for some guidance. Rejected by his parents, he becomes acquainted with a drinking fisherman but is repelled as well. In the end, his wishes remain abandoned like the fish he caught and offered to everybody in vain.
Director: Julius Gintaras Blum, Producer: Fabian Leonhardt, Malgorzata Zglinska, Janick Gootz,
Script: Malgorzata Zglinska, Julius Gintaras Blum, DoP: Leon Hörtrich,
Editor: Jan Wollenschläger, Sound: Auksė Jurevičiūtė, Marius Pakštas, Music: Demian Martin
German-Lithuanian filmmaker Julius Gintaras Blum was born in Dresden in 1995. At the moment, he is studying film direction at Filmakademie Baden-Württemberg. His short films were shown at renowned festivals such as Clermont Ferrand ISFF, DOK Leipzig and Camerimage. He also works in the fields of music video, fashion and commercials. His latest short film was co-produced by ARTE & SWR.
BLOCK 9
Wednesday, 18. October, 18pm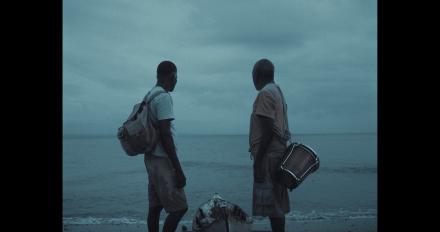 Negro el Mar / Black the Sea / So schwarz das Meer
Colombia / 2023 / Short Film / 16 min
OT Spanish / UT German
Arnaldo is an ill-paid casual jobber on a small Colombian island. But his real vocation, deeply felt, is to be a musician and poet, and there seems to be no place for this on the island. When his daughter, who wants to emigrate, asks him for money, his own desire to take wings is awakened - for beyond the sea, life will be new and fresh.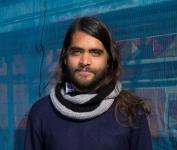 Director: Juan David Mejía Vásquez, Producer: Jair Humberto Pérez Guerra,
Script: Juan David Mejía Vásquez, DoP: Camilo Mejía,
Editor: Juan David Mejía Vásquez, Sound: José Roberto Jaramillo, Music: Arnaldo Oyola
Juan David Mejía Vásquez is Director and editor. Winner of the FDC in 2014 and 2020. Winner of the RECAM 2019 for the Postproduction Atelier at Talents Buenos Aires. Selected in the Development Workshop of TALENTS Buenos Aires with the project Negro el Mar (2014).
BLOCK 12
Thursday, 19. October, 20pm
Aqueronte /
Spain / 2023 / Short Film / 26 min
OT Spanish / UT German
A car ferry on its way to an unknown shore. The ride is getting longer, extending into the unknown, until finally everything is swallowed up by the fog. The passengers' conversations blend into one another, looks and outlooks collide. The background sounds paint a picture of life as a whole. Where is the ferry going?
Director: Manuel Muñoz Rivas, Producer: Manuel Muñoz Rivas,
Script: Manuel Muñoz Rivas, DoP: Mauro Herce, Manuel Muñoz Rivas,
Editor: Manuel Muñoz Rivas, Sound: José Homer Mora, Luiz Lepchak, Music: NO
Manuel Muñoz Rivas is a filmmaker based in Spain. He alternates his personal film projects with co-writing and editing films for colleagues.
BLOCK 12
Thursday, 19. October, 20pm
Von der Flüchtigkeit eines Geschmacks / A Transient Taste /
Germany / 2022 / Short Film / 24 min
OT German / UT German
Mother and daughter run a small tomato farm in Brandenburg founded by their late husband and father. Their mother-in-law helps out temporarily but then has to go back to Italy. Mother has lost her sense of taste which is so essential to grow tomatoes. Each of them has her own way of mourning, and they will have to make a new start in business as well as in their personal relationship.
Director: Eva Neidlinger, Producer: Gerrit Gronau,
Script: Eva Neidlinger, DoP: Ulrike von Au,
Editor: Natalie Kinscher, Sound: Jona Hamann, Patrick Gasda, Maciej Ruminkiewicz, Music: Steven E. Müller
Eva Neidlinger is a documentary and feature film director, scriptwriter and producer based in Berlin. She has been studying film direction at Filmuniversität Babelsberg Konrad Wolf Regie since 2017. After working with NGOs in the areas of peace research and conflict resolution for many years and a Bachelor's degree in European studies, she has now fully devoted herself to making films as a narrative and artistic means of expression.