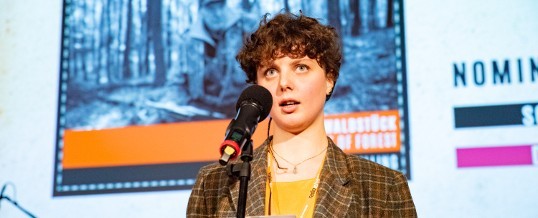 Day 8
The 17th provincial in Eberswalde will die with the award ceremony on Saturday 17th. In front of a well-filled hall, she looks back at a successful international film festival – quite relieved to have mastered the small event marathon even under the currently difficult conditions. Events have always been treated well, sold out and many personal contacts have seen their joy in not having to refer to their Provincials in the current year. The close ranking with the best ratings for the audience awards also indicates a positive response to the film selection from the audience.
The team from Haus Schwärzetal say that they have been participating for eight years with professional and personal support. Emerging rights is also the same of all sponsors and supporters who gave us courage and support.
The festival week was led by the live music, which stylistically closely programmed a program. The musical framing of the award ceremony by Taiko Saito and Johannes Fink gave the evening artistic power and a variety of perspectives – a congenial equivalent to the award-winning film program and a personal concert experience.
Share